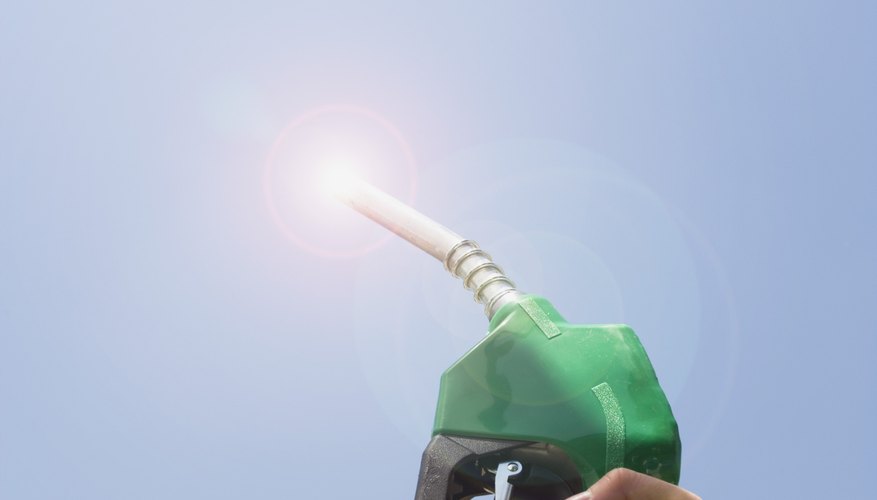 Jupiterimages/Comstock/Getty Images
Gasoline is a liquid mixture of hydrocarbons derived from the fractional distillation of petroleum. These hydrocarbons may be classified into aromatic compounds which have rings of carbon atoms and aliphatic compounds that consist only of straight carbon chains. Gasoline is a class of compounds rather than a specific mixture and its composition can vary considerably.
Define specific gravity. The specific gravity of a material is its density compared to the maximum density of water. Water achieves its maximum density of 1 gram per milliliter (g/ml) at about 4 degrees Celsius. This means that the specific gravity of a material is equal to its density value when the density is measured in units of g/ml.
Weigh a graduated cylinder using a metric scale. Record this amount in grams. Fill the cylinder with 100 ml of gasoline and weigh it in grams with the scale. Subtract the mass of the cylinder from the mass of the cylinder when it contains gasoline. This is the mass of the gasoline. Divide this figure by the volume, 100 ml, to get the density.
Sciencing Video Vault
Create the (almost) perfect bracket: Here's How
Use a hydrometer as an alternative. A hydrometer is a device that uses the principle of Archimedes to measure specific gravity. This principle holds that an object floating in a liquid will displace a quantity of water that's equal to the weight of the object. A measured scale on the side of the hydrometer will provide the specific gravity of the liquid.
Fill a clear container with gasoline and carefully place the hydrometer on the surface of the gasoline. Spin the hydrometer to dislodge all of the air bubbles and allow the hydrometer's position on the surface of the gasoline to stabilize. It's essential that the air bubbles be removed because they will increase the buoyancy of the hydrometer.
View the hydrometer so that the surface of the gasoline is at eye level. Record the value associated with the marking at the surface level of the gasoline. You'll need to record the temperature of the gasoline since the specific gravity of a liquid varies with the temperature.
Analyze the specific gravity reading. Gasoline has a specific gravity between 0.71 and 0.77, depending on its precise composition. Aromatic compounds are less dense than aliphatic compounds, so the specific gravity of gasoline can indicate the relative proportion of these compounds in the gasoline.