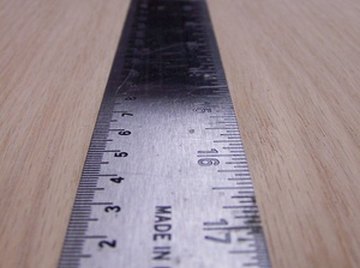 The U.S. system of measurement uses standard units, such as the inch and the foot, while other countries around the world use the metric system. Conversion from standard to metric is based on a system of conversion constants, like the conversion from inch or foot to meter. Converting to metric units can facilitate faster and more efficient communication of ideas and information internationally.
Multiply the measurement by 12 to convert it to inches. For example, if the measurement is 2.5 feet, then it should convert to 30 inches.

Divide the measurement in inches by 39.37, which is the conversion constant from inches to meters. For the example, 30 divided by 39.37 results in 0.762001524003048 meters.

Multiply the measurement in feet with the metric conversion constant, 0.3048, to obtain a less precise conversion. For the example, 2.5 multiplied by 0.3048 equals 0.762 meters.
References
About the Author
Chance E. Gartneer began writing professionally in 2008 working in conjunction with FEMA. He has the unofficial record for the most undergraduate hours at the University of Texas at Austin. When not working on his children's book masterpiece, he writes educational pieces focusing on early mathematics and ESL topics.
Photo Credits