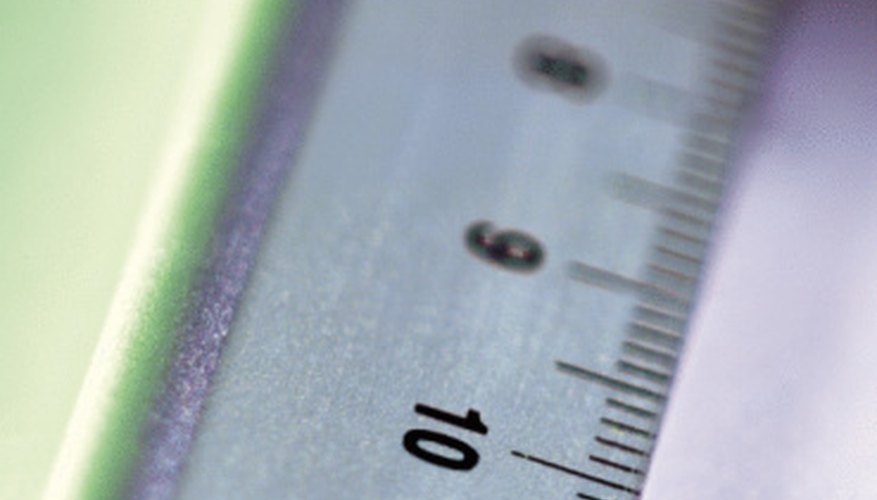 Jupiterimages/Photos.com/Getty Images
Most Americans are accustomed to measuring using inches and feet. Nearly the rest of the world, however, measures using the metric system in which people measure use millimeters, centimeters (instead of inches) and meters (instead of feet). Whether you need to learn the metric system to measure items for a special project or just because you want to learn something new, all you need is a metric ruler and some items to measure.
Learn the basics of the Metric system. The metric system consists of meters (m), which are made up of 100 smaller units called centimeters (cm), which in turn are made up of 10 millimeters (mm). By comparison, 2.54 cm is equal to 1 inch and 30 cm equals 12 inches, or 1 foot.
Study your metric ruler to familiarize yourself with it. Metric rulers vary in size anywhere from 30 cm to 1 meter. Notice where all the centimeter marks are and how many millimeters are between them.
Measure something using your metric ruler and write down how long or wide the object is in centimeters. Line up the bottom edge of the ruler with the edge of the object. Write down the number of whole centimeters the object is followed by a decimal point, and then write down how many millimeters are after the last whole centimeter, if any. Write that number down after the decimal point. For example, if you measure a box that is 6 whole centimeters followed by 3 millimeters, your measurement would be 6.3 cm.
Tip
If the item you are measuring is longer than your metric ruler, mark the item lightly with your pencil at the exact spot where your ruler ends. Then place the opposite end of your ruler (where the number line starts) at the mark you drew with the pencil and continue measuring from there.