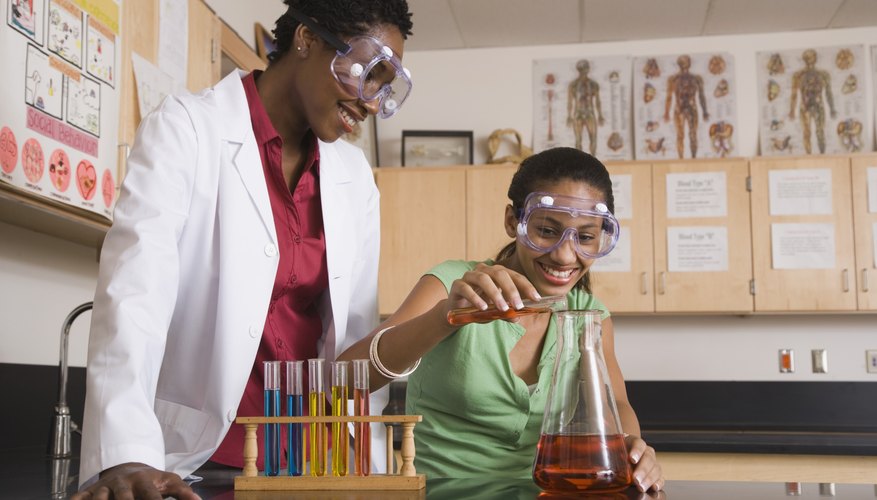 The pH of a liquid is a measure of its acidity or alkalinity. Chemically speaking, pH reflects the amount of positively charged hydrogen ions dissolved in the liquid. A large amount of such ions makes the liquid acidic. There are three common methods for testing the pH of liquids, each of which varies in its accuracy and application.
Probe and Meter
The most accurate common means of measuring pH is through a lab device called a probe and meter, or simply, a pH meter. The probe consists of a glass electrode through which a small voltage is passed. The meter, a voltmeter, measures the electronic impedance in the glass electrode and displays pH units instead of volts. A pH meter typically has to be calibrated before each use with two standard liquid solutions of known pH. Measurement is made by submerging the probe in the liquid until a reading is registered by the meter.
Litmus Paper
Litmus paper is a small strip of paper that has been dipped in a combination of dyes that change color according to the pH of the medium in which they are contained. Acidic liquids (pH below 7) turn the paper red while alkaline liquids (pH above 7) change it to blue or purple. Litmus paper is good for roughly estimating the relative pH of liquids, but not for precise readings. Measurement is made by briefly dipping the end of an unused strip in the liquid and allowing it to dry.
Field Kit
A field kit consists of a clean, empty vial into which a sample liquid can be placed, and a bottle of indicator solution. A few drops of the solution are placed in the sample, and the pH is determined by the change in color of the liquid. Because different indicator solutions perform better at certain pH levels, a variety of kits is available for different ranges. The accuracy of the field kit depends on the narrowness of the indicator solution's range.