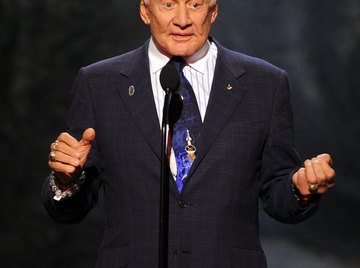 •••
Kevin Winter/Getty Images Entertainment/Getty Images
Microgravity weakens both bone and muscle. The effects are interconnected, since the weakening of muscle speeds the weakening of bone. This can leave astronauts with long-term muscle and bone loss. Understanding -- and hopefully combating -- the effects of microgravity on astronauts' bones and muscles presents a critical challenge for space travel.
Muscle Strength
Microgravity weakens muscles in several ways, which were explored in a 2003 study by the University of Udine in Italy. After about 240 days in space, astronauts' total strength drops to about 70 percent of their starting strength. Human muscles have two types of muscle fibers, which are affected slightly differently, though both weaken. The slow-twitch fibers weaken at about the same rate as total strength. However, fast-twitch muscle fibers atrophy even more quickly, and after about six months have about 45 percent of their starting strength. This leaves astronauts' muscles greatly weakened. Curiously, muscle loss seems to happen most radically in the upper body, while bone loss tends to cause the most serious effects in the lower body.
Bone Loss
Microgravity causes osteopenia, the loss of bone density, a condition related to osteoporosis. In fact, accord to Dr. Jay Shapiro, the team leader for bone studies at the National Space Biomedical Research Institute, "the magnitude of this (problem) has led NASA to consider bone loss an inherent risk of extended space flights." A major component in this problem stems from activity at the cellular level. Under normal conditions, a set of cells called osteoclasts break bone apart while another type of bone cell, osteoblasts create new bone at the same time. However, osteoblasts respond to stress, building up bone where the body pushes on it. In space, bones feel very little stress, since gravity is not pulling on bones and weakened muscles put less stress on bones. This causes the process of tearing down old bone and building new bone to fall out of synch, resulting in weakened bones. But other factors appear to contribute to the issue as well. For example, the body tends to produce malformed collagen fibers in microgravity, which contributes to declining bone health.
Symptoms of Microgravity
At the clinical level, these changes to the bone and muscle cause many problems for astronauts. The bone loss is most pronounced in the lower half of the body, where a astronauts may lose 1 to 2 percent of their bone mass per month, though it seems to level off at around 20 percent bone loss in the longest spaceflights. The weakening of bone and muscle ultimately resemble the effects of prolonged periods of bed rest. Astronauts need time to re-adapt their muscles to Earth's gravity. On top of this, calcium builds up in the blood as bones lose mass. This promotes kidney stones in astronauts.
Countering Health Problems
NASA has several methods at its disposal to combat these conditions. First, exercise in space helps lessen bone loss and muscle weakness. Adding "explosive" type exercises with sudden movements may further increase the benefit of exercise in staving off the worst effects of microgravity. Similarly, exercising in a centrifuge can further reduce the long-term effects of microgravity and help strengthen the muscles of the heart. Additionally, changes to astronauts' diet has shown promise in decreasing the effects of microgravity on bone and muscle. Lastly, NASA has begun to experiment with using medications to combat bone loss. Specifically, NASA has begun issuing astronauts bisphosphonate, a medication used to treat and prevent osteoporosis on Earth. Scientists hope that understanding microgravity bone loss may translate into better treatment for people on earth with bone disorders like osteoporosis.