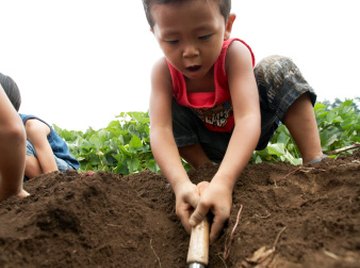 •••
Seiya Kawamoto/Lifesize/Getty Images
The earth's soils hold 13 different minerals that provide nutrients to plants. Not all of these essential minerals are found in every type of soil, which is why fertilizers, composts and other soil types are often added to encourage healthy plant growth. Learning what minerals are naturally occurring in particular soil types allows gardeners to amend their own soil and better meet the needs of their plants.
Sand
Sandy soils are formed from rock such as shale, granite, quartz and limestone. Sand is the largest of all soil particle types. As a result, sandy soil is loosely packed and very free-draining. Sand does not retain water well and allows air to freely circulate through it. By its nature, sand does not hold onto many of the minerals and nutrients needed by plants.
Plants need large amounts of nitrogen, phosphorus and potassium to survive. These three minerals plants need to grow are often lacking in other soil types, but they may be found more easily in sand. While sandy soils are considered poor for plant growth because it they are loose and quick-draining, sand is often mixed with other soils to enrich it for plant growth.
Silt
Silt is one of the most fertile types of soils and is highly prized by gardeners. Quartz and other necessary plant minerals are present in silt, which is finer than sand but still drains well. Silt has the capacity to both absorb and release water, keeping the soil moist but not wet. The moist nature of silt is optimal for many different types of plants.
Acidic silty soils are rich in calcium, magnesium and sulfur, secondary minerals important to plant growth and health. Large amounts of calcium and magnesium are present in acidic rain, which helps create silty soils. Sulfur is found in silty soils created by decomposing plant materials.
Clay
Clay is made up of very fine soil particles making it very dense. Wet clay is very sticky, while dry clay is hard and difficult to work. Clay soils are tightly packed, allowing very little water drainage or air flow. The dense nature of clay makes it undesirable for many types of plants, but this soil is often packed in essential plant minerals. Minerals such as boron, copper, iron, manganese, chloride, zinc and molbydenum, which are all needed by plants, may be present in clay soil types. Because clay is so hard to work, it is often mixed with other, looser soil types.
References
Resources
About the Author
K. C. Morgan is a professional freelance writer, with articles and blog posts appearing on dozens of sites. During her years of writing professionally, K. C. has covered a wide range of topics. She has interviewed experts in several fields, including celebrated psychoanalyst Frances Cohen Praver, PhD; television personality and psychotherapist Dr. Robi Ludwig; and entrepreneur Todd Reed.
Photo Credits
Seiya Kawamoto/Lifesize/Getty Images