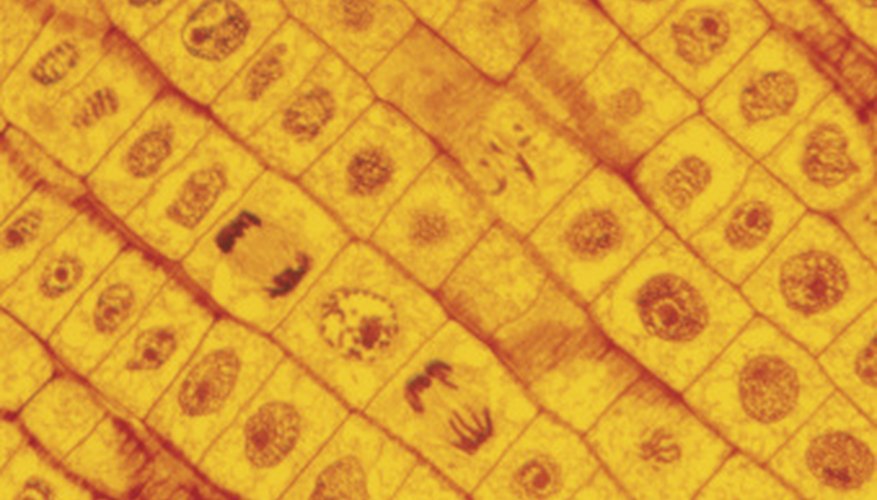 Comstock Images/Comstock/Getty Images
Mitosis is a process of cell division that occurs in both plants and animals. Mitosis results in two daughter cells that are identical to the parent cell. In unicellular organisms, cell division makes new organisms. In the case of multicellular organisms, like plants and animals, mitosis is performed for growth and repair. Mitosis is fundamentally similar in plants and animals, but there are a few key differences.
Centrioles
Centrioles are found only in animal eukaryotic cells. Animal cells have a pair of centrioles right outside of the nucleus. The centrioles replicate just prior to the beginning of mitosis, so each cell has two pairs during the process of cell division. The centrioles will migrate to the poles of the cell and contribute to the development of the mitotic spindle.
Location
Plant cells divide in special tissues called meristems. Meristems are quickly dividing regions of growth found in the stem or the root of a plant. The meristem has an open growth pattern, meaning it will continue to grow for the duration of its life. Animal cells divide everywhere within the organism, and most animals do not have an open growth pattern.
Cytokinesis
Cytokinesis differs significantly between plant and animal cells. In animal cells, the cell membrane cleaves inward until the cells are pinched in two. Plant cells build a new wall by joining a series of vesicles through the center of the wall until the cell is completely divided.
Other Differences
Other minor differences occur during the five stages of mitosis. In prophase, the mitotic spindle is formed between the centrioles in animal cells. In plant cells, cortical microtubules form the spindle and the preprophase band forms at the future location of the cell wall. During prometaphase, the band breaks down. During telophase, directly before cytokinesis, the contractile ring forms in animal cells and phragmoplast (cell wall component) forms in plant cells.