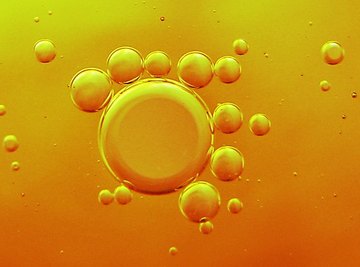 •••
Image by Flickr.com, courtesy of fdecomite
Triglycerides are macromolecules called lipids, better known as fats or oils. Triglycerides are named for the monomer components they contain. "Tri" means three, and triglycerides are built from monomers of three fatty acids bonded to a glycerol.
Types
According to the 2009 text, "Biology: Concepts and Connections," there are four basic types of macromolecules, or large carbon-based molecules important in biology: lipids, carbohydrates, proteins and nucleic acids.
Macromolecules
Macromolecules, also called polymers, are large molecules made up chains of smaller molecules called monomers. Monomers are the "building blocks" of macromolecules or polymers.
Monomers
Monomers of any macromolecule are linked together by a process called dehydration synthesis, because a water molecule is removed when the monomers are linked together.
Triglycerides
The monomers of triglycerides are fatty acids and glycerol. Glycerol is a type of alcohol. Triglycerides are made up of monomers of glycerol molecules each bonded to three fatty acid "tails."
Considerations
By some definitions, triglycerides don't have true monomers, since their monomers are fatty acids and glycerol molecules in a ratio of three to one. Other macromolecules consist of chains of identical monomers in one to one ratios.
References
"Biology: Concepts and Connections;" Neil A. Campbell; 2009
About the Author
Liz Veloz is a writer, scientist and college teacher living in Madison, Wis. Her science, travel and adventure writing has appeared in numerous literary journals and other publications. Veloz holds a doctorate in the biological sciences and a Master of Arts in English from the University of California, Davis.
Photo Credits
Image by Flickr.com, courtesy of fdecomite