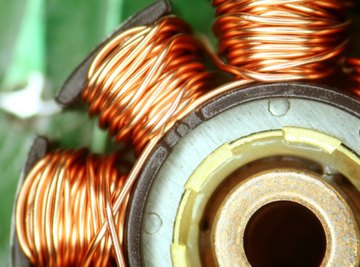 •••
Jupiterimages/Photos.com/Getty Images
Alternating current (AC) and direct current (DC) motors employ an insulated, current-carrying coil essential to their operation. The traditional method for motor rewinding involves removing the old coil, winding a new coil and varnishing.
Removal
Old coils are removed by heating the stationary part of the motor (stator) in an oven. The stator is kept in the oven at temperature of 650 degrees Fahrenheit for at least 10 hours or until the winding insulation turns to ash.
Winding
New coils are traditionally wound by hand by a technician on a coil winding machine. The technician controls the wire tension, layering and number of turns on the coil, although there is also a mechanical counter on the machine.
Varnishing
The newly rewound coil is warmed in an oven, immersed in an epoxy varnish and baked in an oven at a temperature of 300 degrees Fahrenheit for at least four hours. This procedure is known as dip and bake.
References
About the Author
A full-time writer since 2006, David Dunning is a professional freelancer specializing in creative non-fiction. His work has appeared in "Golf Monthly," "Celtic Heritage," "Best of British" and numerous other magazines, as well as in the book "Defining Moments in History." Dunning has a Master of Science in computer science from the University of Kent.
Photo Credits
Jupiterimages/Photos.com/Getty Images