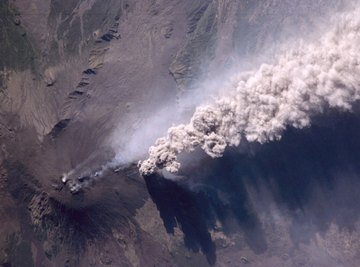 •••
NASA/mix.msfc.nasa.gov
Mount Etna is a volcano located in Italy, on the island of Sicily. It is famous for being one of the world's most active volcanoes and has been studied since ancient times.
Size
Mount Etna is approximately 10,925 feet (3,330 meters) tall, but this measurement changes frequently due to volcanic activity.
Geology
Mount Etna is a stratovolcano, meaning its surface was formed by a series of lava deposits over time.
Frequent Eruptions
According to the Global Volcanism Institute, there have been more than 225 eruptions at Mount Etna, including 10 between 2001 and 2009.
Destructive Power
While most Etna eruptions pose no danger to the surrounding area, they have the ability to cause serious damage. In 1669, the city of Catania at the base of the volcano was destroyed by lava. Catania was rebuilt only to be destroyed again by an earthquake in 1693.
Mythology
The ancient Romans believed that Vulcan--the god of fire and metalworking--had his forge beneath Mount Etna and that this was the cause of its eruptions. The word "volcano" originates from his name.
References
About the Author
Lloyd Timmons has been writing and editing professionally since 1999. His primary fields of interest are history, geography, science, and the natural world. He writes on these topics for eHow. Timmons holds a Bachelor of Arts in Psychology from the University of Michigan.
Photo Credits