Located near the equator on the Western coast of Africa, Nigeria is the most populous country in Africa and the second largest economy on the continent. The terrain of Nigeria includes lowland rain forests, coastal mangrove forests and a few grassy plateaus around 6,000 feet in elevation.
Native Animals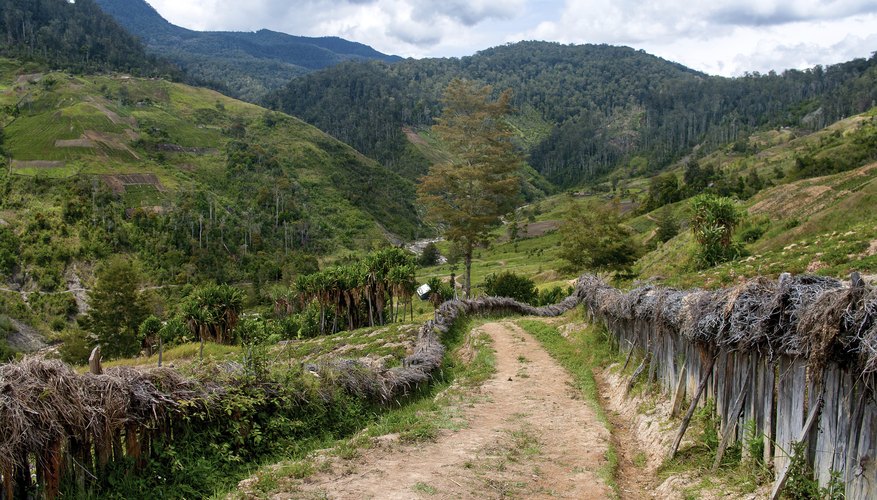 Byelikova_Oksana/iStock/Getty Images
Nigeria is considered to have an extremely low number of endemic (i.e., native and/or exclusive) species for its size and climate. A small monkey called Sclater's guenon and the crested chameleon are considered near-endemic. The small Anambra waxbill bird is also considered near-endemic. Named after the body of water that flows through Nigeria, Cross River gorillas used to be common in the southeast of the country, but human activities including deforestation have reduced the local population. African elephants inhabit a few protected areas in Nigeria.
Native Plants
Nigeria is home to numerous families of flowering plants, including Meliaceae, Leguminosae, Moraceae and Sterculiaceae. The country also has many species of trees, including several varieties of mangroves along the coastal regions. As a result of logging and agricultural activities, these trees are being cleared at a high rate in areas not set aside for conservation. Scientists are worried that this deforestation will further isolate protected areas and put more pressure on the country's natural resources.