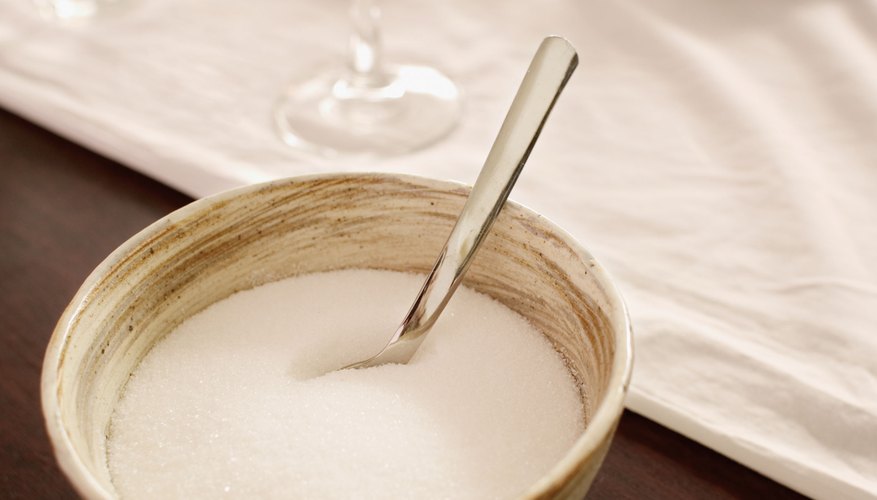 Brand X Pictures/Stockbyte/Getty Images
Glycolysis is the first step in cellular respiration. That might not sound like much, until you remember that cellular respiration is the process that provides your body with all the energy you use. Glycolysis is a 10-step chemical process that splits one six-carbon glucose molecule into two three-carbon pyruvate molecules. The process won't start unless chemical levels in the cell indicate that energy is running low.
Glycolysis and Energy
Glycolysis is the splitting apart of a glucose molecule. The primary benefit of glycolysis is that the energy stored in the chemical bonds of glucose gets transferred to chemical bonds in other molecules. The most important of these is the molecule adenosine diphosphate (ADP). Energy from glucose pushes another phosphate group onto that molecule, turning it into the more energetic adenosine triphosphate (ATP). If you think of glucose energy storage as money in the bank, then ATP is like ready cash. So when your cells need to do something, they're looking for ATP to get it done. If a cell has lots of ATP, glycolysis is not necessary.
Another Purpose for Glycolysis
Glycolysis serves another function besides providing the cell with ready energy. It also provides the cell with little carbon molecular chains that the cell can use to build its own bigger molecules. If the cell already has a bunch of little carbon chains around, it doesn't need glycolysis for that purpose. Specifically, the little carbon molecules the cell needs are called citrate molecules. Citrate is not a direct result of glycolysis, but it is synthesized using the products of glycolysis.
How Glycolysis Happens
Glucose is the fuel of glycolysis, so just as you can't have a fire without something to burn, you can't have glycolysis without glucose. That's usually not much of a stumbling block, because your body can make its own glucose from starch or other sources. The enzymes are more important.
Glycolysis has 10 different chemical steps. Each of those steps is facilitated by a different enzyme. The 10 different enzymes are proteins that speed the reaction along. If any of those enzymes are missing, glycolysis can not be completed. The most important regulating enzyme in early glycolysis is called phosphofructokinase.
Regulating Phosphofructokinase
If a cell has plenty of ATP and plenty of citrate molecules around to do some molecule synthesizing, glycolysis isn't necessary. So you'd expect that high levels of ATP and citrate would inhibit the action of the phosphofructokinase enzyme. You'd be right.
Phosphofructokinase senses the balance between ATP and the lowest energy form of the molecule, adenosine monophosphate, or AMP. If the ATP to AMP ratio is high, phosphofructokinase won't bind to the modified glucose molecule. In addition, if lots of citrate is around, the inhibition effect of the ATP is enhanced, making phosphofructokinase even less likely to participate in glycolysis. If the enzyme isn't binding, glycolysis stops. And the enzyme will only bind strongly if ATP or citrate is low.