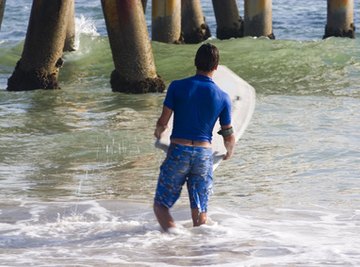 •••
Young Surfer in Blue Wetsuit 1 image by jc from Fotolia.com
Neoprene was discovered in April 1930 by a group of scientists at the DuPont Company. Neoprene was first called "Duprene" and was the first synthetic rubber. Today, 300,000 tons of neoprene are produced every year.
Neoprene Qualities
Neoprene is a synthetic rubber; its main component is polychloroprene. It has a resistance to ozone, sun and weather and can be used successfully in a wide range of temperatures. It is physically robust and copes well in contact with water, oils and chemicals. It is buoyant, lightweight and has excellent resistance to flexing and twisting.
Neoprene Uses
Neoprene is used in wetsuits, protective gloves, covering for wiring, printing rolls, carrying oil and petrol. It has many other industrial and domestic uses due to its robust and resistant properties.
Neoprene Flexibiility
Neoprene is a stretchy material. Wetsuits can stretch five to six times their original length, which is why neoprene is used for this purpose.
About the Author
Zoe Van-de-Velde began writing in 1990 and contributes to eHow and Answerbag. Van-de-Velde has a Bachelor of Arts & Humanities in media and English from DeMontfort University. She is currently studying for a Master of Arts in creative media arts specializing in digital photography at the London South Bank University.
Photo Credits
Young Surfer in Blue Wetsuit 1 image by jc from Fotolia.com