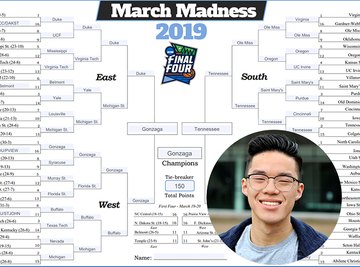 Once again, March Madness proves to be unpredictable. But this year, there are no magical Cinderella runs in sight. The fairy god mother must be taking a break, as the top-seeded titans are reigning supreme. With all 12 of the No.1-No. 3 seeded teams making the Sweet 16, it's clear that this was the wrong year for me to predict upsets.
Evaluating my bracket
My upset-ridden bracket obviously did not fare well. I had a few too many low-percentage upsets, especially in the second round. Sciencing defines an upset as a seed difference of five or higher between the winning team and losing team. So while I correctly predicted three of the five first round upsets, I missed the mark on a few others.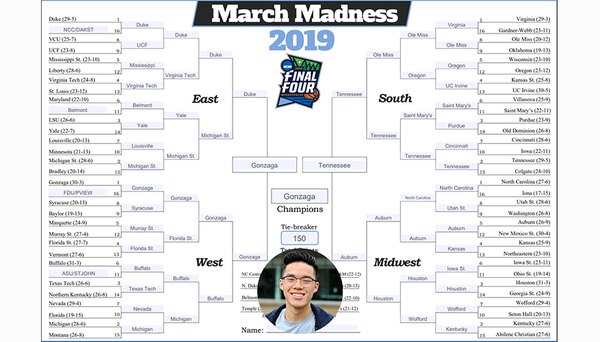 No. 12 Oregon over No. 5 Wisconsin (Oregon won 72-54)
No. 11 Belmont over No. 6 Maryland (Maryland won 79-77)
No. 14 Yale over No. 3 LSU (LSU won 79-74)
No. 13 UC Irvine over No. 4 Kansas State (UCI won 70-64)
No. 11 Saint Mary's over No. 6 Villanova (Villanova won 61-57)
No. 12 Murray State over No. 5 Marquette (Murray State won 83-64)
The upsets I did not predict were No. 12 Liberty defeating No. 5 Mississipi State and No. 11 Ohio defeating No. 6 Iowa.
In my defense, the games I predicted wrong were all one- or two-possession games. Yale had a tough game, as leading point scorer Miye Oni was held to just five points and LSU lead 45-29 at halftime. While the Bulldogs came back, outscoring the Tigers by 11 points in the second half, it wasn't enough. So close to an upset there, as LSU won 79-74.
Saint Mary's gave the defending champions a scare with a first half lead, but Villanova ended up taking a 61-57 win. So close.
Belmont came the closest, with senior guard Darren Windler scoring an insane game-high 35 points. After giving up a 40-34 first half lead, the Bruins ended up trailing by a single point. But they had the final possession of the game, and I had hope. With the ball, Belmont ran the clock, waiting for the game-winning shot, but an errant pass sealed Maryland's 78-77 win. So. Close.
But that is how March Madness goes. At the end of the day, my predictions were wrong, even if by just a handful of points.
What really did not help my bracket was the amount of low-seeded teams I had making it to the Sweet 16. Sciencing's data shows that an average of ~2.9 upsets happen in the second round. Out of the 11 potential second round upsets, zero happened. And that is how you end up with a Sweet 16 where the lowest-seeded teams are No. 5 Auburn and No. 12 Oregon.
It's time to forget my bracket and enjoy the ride.
Evaluating Oregon's Cinderella story potential
As the final double digit seed in the tournament, No. 12 Oregon is the last hope at a Cinderella story in 2019. But with the Cinderella magic clearly absent from this year's tournament, I would rather call this a Mulan story, as the Ducks would have to fight their own way out.
While Oregon's 73-54 win over UC Irvine in the second round looks like domination on paper, the final score does not reflect how close the Ducks were to faltering.
The Ducks scored a startling zero points in the first 7:30 of the second half, only to shock the Anteaters with 38 points in the last 12:30 of the game.
To make the Elite Eight, Oregon will have to take down No. 1 Virginia. The stats are not in the Ducks' favor, as a No. 1 seed has never lost to a No. 12 seed in NCAA Tournament history. And while Virginia became the first ever No. 1 seed to lose to a No. 16 seed last year, No. 1 seeded teams still have an extremely high win rate in the Sweet Sixteen.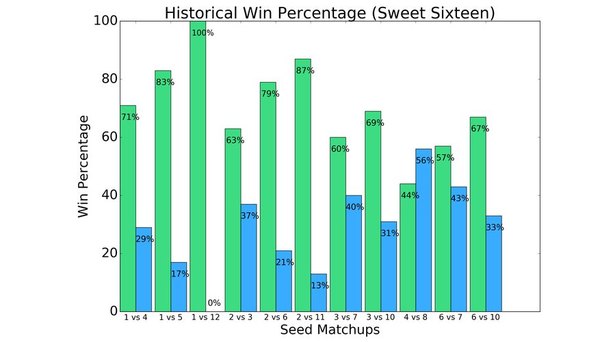 In addition, Sweet Sixteen upsets occur at a rate of one every five years, so Oregon's chances of extending its season is very low.
However, for my Final Four to remain intact, I'm going to need a No. 1 seed to fall. No. 5 Auburn will play No. 1 North Carolina, a match up that No. 5 seeds only have a 17 percent win rate in.
About the Author
If there is anything Brian Truong loves more than hockey, it's making strange sports predictions. The Bay Area native is a journalism junior at Cal Poly. As the current sports editor for Mustang News, Brian has spent the last three years reporting from the sidelines of Division I sports. He earned a 2017-18 Associated College Press Pacemaker honorable mention for his feature, "The relentless Ayzhiana Basallo - How an undersized point guard found herself at Cal Poly, shot, after shot, after shot."