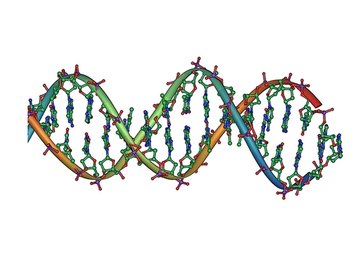 •••
Drawing by Jerome Walker
Nucleic acids hold the basic building blocks for life. Deoxyribonucleic acid are found in all cells. DNA is organized into x-shaped chromosomes. In humans it is found in the nucleus of the cell.
History
Friedrich Miescher first isolated DNA in 1869 and called it "nuclein." James Watson, Francis Crick, Rosalind Franklin and Maurice Wilkins determined the double-helix structure of DNA in 1953.
Structure
Nucleic acids contain long chains of molecules called nucleotides that are paired. Each nucleotide contains a phosphate base, a pentose sugar and a nitrogenous base.
Types
DNA and RNA are the two primary types of nucleic acids. DNA and RNA differ in their sugar component, the types of nucleotides they contain and the number of strands of nucleotides they have.
Nucleotides
The nucleotides that form nucleic acids are divided into two groups: pyrimidines and purines. DNA contains the purines adenine and guanine and the pyrimidines thymine and cytosine. In RNA, thymine is replaced with uracil.
Function
DNA gives the blueprint for how an organism is made. The order of the nucleotides within the DNA encodes what a cell should do. RNA facilitates the translation of DNA information into protein synthesis.
About the Author
Ann Mountz researched oyster immunity and antimicrobial peptides while obtaining her M.S. in Marine Estuarine and Environmental Sciences from the University of Maryland. Before graduate school, she studied anti-angiogenic factors in a cancer research lab at Northwestern University. She has been writing professionally for 2 years and is currently a freelance writer for Demand Studios.
Photo Credits