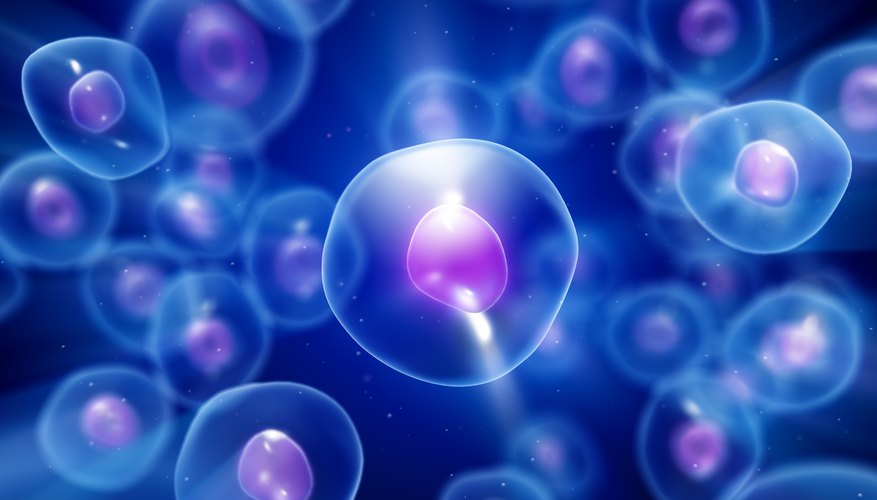 Henrik5000/E+/GettyImages
The cell nucleus (plural nuclei) is a structure that reflects the layered, nested nature of life itself. Just as your brain is the command and control center for your body as a whole, the nuclei of each of your trillions of individual cells – with some exceptions – contain the instructions and most critical elements of those cells.
Cells are considered basic building blocks of all life on Earth, as they are the smallest biological structure boasting all of the properties of living things, such as a copy of the organism's genetic material (DNA, or deoxyribonucleic acid), "machinery" for synthesizing proteins, a way to maintain internal homeostasis (i.e., chemical balance) and so on. Nuclei are a feature of eukaryotic cells – animals, plants and fungi – but are absent from prokaryotic cells (mostly bacteria). If you have had the pleasure of examining a cell under a microscope, chances are excellent that the first thing that caught your eye was its nucleus.
The Discovery of the Cell Nucleus
While it is not certain which person's gaze first fell though a lens upon the cell nucleus, it is known for sure that this happened no later than 1710, when Anthony von Leeuwenhoeck, considered the father of the optical microscope, visualized the red blood cells of birds and amphibians. In 1781, Felice Fontana did the same with the skin cells of an eel. In the first third of the 19th century, a variety of scientists made more detailed observations of animal and plant cells, with Robert Brown coining the term "nucleus" in 1832.
It would be many years before the significance of the nucleus was revealed, however. It was given its name originally simply because its dark form stood out from the lighter background, hearkening to the effective limit of optical instruments until the 20th century. In fact, it was not until the 1920s that the cell was found to contain organelles other than the nucleus, for example, mitochondria and Golgi bodies. Today, we know that the nucleus contains both the most essential information about the parent organism imaginable and instructions about how and when to distribute this, and other, "administrative" information.
Nucleus Structure
Again, only eukaryotic cells have nuclei; this is perhaps the most obvious distinction between prokaryotic and eukaryotic cells at a glance, although other important differences exist. With rare exceptions, such as the algae life form Siphonales, each cell has only one nucleus.
The nucleus accounts for about one-tenth of a cell's volume. Like cells as a whole, it is surrounded by a membrane consisting of a phospholipid bilayer. This membrane, called the nuclear envelope, serves to contain the cell's DNA in one general location. This holds even when the chromosomes into which DNA (as chromatin) is divided are not replicating and are therefore in a physically "loose" conformation. The membrane includes nuclear pores that allow certain molecules, such as proteins, to enter and exit the nucleus in a regulated manner. The outer portion of the membrane is attached to a network of sacs and tubules, called the endoplasmic reticulum, that resembles the arms of a transportation system radiating out from a central city in all directions. This is apt, for transporting substances from the nucleus to other locations within the cell is exactly the endoplasmic reticulum's job.
Just as a cell contains cytoplasm and mitochondria have a matrix, the nucleus contains a semi-liquid entity called nucleoplasm. It also contains a usually conspicuous and centrally located entity called the nucleolus, where organelles called ribosomes, which manufacture proteins, are themselves manufactured from a mixture of ribonucleic acid (RNA) and proteins. Some species actually have up to four nucleoli per cell, but these are so close together that they are treated essentially as one for purposes of discussion. The nucleolus disappears during cell division but quickly reforms in each daughter cell.
Most of the nucleoplasm, however, is occupied by chromatin, which within a given nucleus represents a copy all of the DNA of the parent organism. Chromatin is divided into distinct chromosomes, the number of which varies from organism to organism (humans have 23 pairs), but when cells are not actively dividing, the chromosomes are in effect impossible to distinguish from one another. During mitosis and cell division, discussed below, the chromosomes become taut, linear and distinct from each other on microscopic examination.
Overview of Nucleus Functions
Because the nucleus contains all of a cell's DNA, it is both the guardian and activator of a number of processes concerned with reproduction, not only of whole organisms but of specialized cells to replace those that are old and worn out. DNA is used in the process of transcription to create a similar molecule called messenger RNA (mRNA). While DNA is normally in a double-stranded helical conformation, distinct sections of it are unwound by enzymes to allow more room for not only transcription but replication (DNA making copies of itself) to occur.
In simple terms, both DNA and mRNA consist of long chains of subunits called nucleotides. Each of these nucleotides contains a five-carbon sugar (deoxyribose in DNA, ribose in RNA), a phosphate group and a nitrogenous base. The variation in DNA and RNA comes from the specific ordering of these bases in a nucleic acid strand, as these bases come in four "flavors" in each molecule: adenine, cytosine, guanine and thymine in DNA, and adenine, cytosine, guanine and uracil in RNA. When DNA is transcribed into RNA, it makes complementary copy, wherein an adenine (A) nucleotide generates a uracil (U) nucleotide in messenger RNA (mRNA), C begets G, G begets C and T begets A. A single mRNA molecule includes just enough nucleotides to make a single specific protein product; that is, each mRNA is a copy of a DNA gene. After transcription is done, the resulting mRNA leaves the nucleus through nuclear pores in the nuclear envelope and proceeds to a ribosome for translation into the protein it carries the code for.
The nucleus contains a number of substances and bodies with functions that had yet to be clarified as of the second decade of the 21st century. A number of polyamines, compounds rich in -NH2 groups, with an unknown role populate the nucleus, and a surprising amount of iron is present in abundance in interphase (that is, between cell divisions, where most cells spend the majority of their lifetimes). Other smaller components with functions still being elucidated include Cajal bodies, Gemini of coiled bodies (GEMS) and interchromatin granule clusters.
The Structure and Role of Chromosomes
Discussing the nucleus without a thorough accompanying exploration of chromosomes would be rather like a treatise about the skull that neglects to describe the brain in significant detail.
Chromosomes, as noted, are no more than distinct sections of chromatin. Chromatin, in turn, is DNA combined with proteins called histones that allow the chromosomes to be wound and coiled in such a way as to magnificently compress their physical form. While a cell is only about one or two millionths of a meter across, and the cell nucleus correspondingly far smaller, a single copy of human DNA would stretch to a distance of about 2 meters if laid end to end. Thus the "supercoiling"enabled by histones is both remarkable and necessary.
Chromatin has histone octamers (groups of eight subunits) at regular intervals along its length, yielding a "beads on a string" appearance under a microscope. The DNA coils around these octamers about two and a half times, like thread around a spool. The individual "beads" are called nucleosomes. These nucleosomes are themselves stacked, folded and contorted in multiple dimensions, but overall a chromosome appears narrow and linear. Chromosomes consist of two identical halves called chromatids, which are joined along their length (not usually in the center) at a point of condensation called the centriole.
Human cells contain 23 pairs of chromosomes, except for gametes (sex cells), which contain only one copy of each instead of pairs. This is because gametes (i.e., sperm cells and egg cells) are the cells that fuse to form the start of a new organism. This keeps the total number of chromosomes in ordinary cells to 46. The 23 distinct chromosomes include 22 numbered chromosomes and a sex chromosome, either X or Y. Every chromosome features "arms" delineated by the centromere. The two shorter arms of sister chromatids extending in one direction from the centromere are called the p-arms, and the pair of longer arms on the other side of the centromere are called the q-arms.
The Nucleus in Cell Division
When a cell is preparing to divide, the first signs of this activity unfold in the nucleus. The chromosomes, appearing as highly dispersed material during interphase, begin to take shape and move purposefully about the nucleus. This is the prophase stage of cell division, or mitosis. (Meiosis is a separate cell division that occurs only in gametes.) The end of prophase is signaled by the dissolution of the nuclear envelope, although in some eukaryotes, such as yeasts, this dissolution does not occur. The nucleolus also disappears during prophase.
In metaphase, the chromosomes migrate to the center of the nucleus and align themselves along a forming structure called the mitotic spindle. In this phase, chromosomes are highly, although incompletely, condensed, with the chromosomes forming large loops containing about a hundred base pairs each. (Remember, DNA is double-stranded, hence its length can be thought of in terms of base pairs, not merely bases a la mRNA.)
In anaphase, the sister chromatids of individual chromosomes separate and move to opposite sides of the mitotic spindle, pulled in different directions by the action of microtubules. The result of this is two identical daughter nuclei, but now each one contains a single copy of the organism's genome (for example, in humans, 23 single chromosomes. These later replicate in the new daughter cells.
Finally, in telophase, the nucleus is cleaves in half (cytokinesis) along with the cell as a whole, although not at exactly the same time. The nuclear envelope re-forms around the DNA in each new cell, which in turn has its own outer plasma membrane. The chromosomes then slide into interphase, "relaxing" and re-assuming a more diffuse shape within the nucleus.
It must be borne in mind that no genetic variation occurs in mitosis; that occurs entirely during sexual reproduction (meiosis) in gametes.
The Nucleus and Disease
The nuclear membrane is no mere storage vessel. Scientists are still clarifying its functions, but it is now known that proteins embedded in the nuclear membrane play roles in gene expression, that is, the control of which DNA segments are transcribed so that the proteins they code for can be made in greater numbers or smaller numbers. This control of gene expression may have implications for a number of serious, common diseases such as heart disease and some forms of leukemia. These are significant findings; classically, regulation of gene expression has been considered to be most active in the direct vicinity of the affected DNA, that is, controlled by other segments of DNA rather than proteins located at a distance.