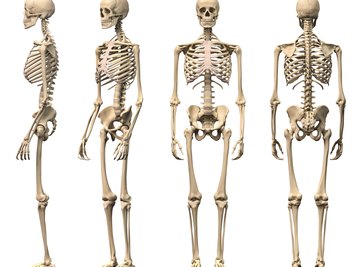 •••
leonello/iStock/Getty Images
Your 12 pairs of ribs protect your heart, lungs and other vital organs of your thorax, or chest cavity. Anatomists have numbered the ribs from top to bottom, and different pairs have additional features that allow you to distinguish them from one another.
Atypical Ribs
Rib 1 is unusually short and wide, and has only one articular facet head for attachment to the spinal column; ribs 2 through 10 have two. Rib 2 has a characteristic roughened area on its upper surface, where a muscle called the serratus anterior joins it. Ribs 11 and 12, lack necks and also have only one articular facet each.
Anterior Attachments
Your first seven ribs attach in the front of your chest to the sternum, or breastbone. The next three attach to the cartilage of the ribs above them. The last two don't attach to anything, and are therefore sometimes called "floating ribs."
References
About the Author
Michael Crystal earned a Bachelor of Science in biology at Case Western Reserve University, where he was a varsity distance runner, and is a USA Track and Field-certified coach. Formerly the editor of his running club's newsletter, he has been published in "Trail Runner Magazine" and "Men's Health." He is pursuing a medical degree.
Photo Credits
leonello/iStock/Getty Images