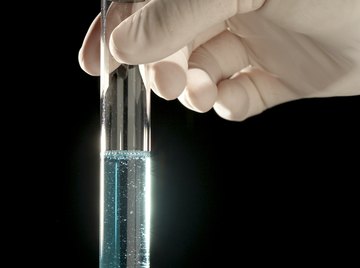 •••
Siri Stafford/Photodisc/Getty Images
Wearing gloves keeps your hands safe while keeping others safe from your hands. Natural rubber latex (NRL) gloves are commonly used in heath, beauty, food preparation and industrial fields. For medical practices, they provide an excellent barrier against blood and other substances that may carry infection. NRL gloves also protect against many chemicals and eliminate the risk of food contamination. However, they are not indestructible.
Avoid Oil
NRL gloves break down when they come into contact with oil. For example, some professions use oil-based products for cleaning tasks. Inside the gloves, oil-based hand cream also poses a risk when it is applied and gloves are donned. Gloves become sticky and misshapen, and they no longer provide a protective barrier.
References
About the Author
Living in upstate New York, Susan Sherwood is a researcher who has been writing within educational settings for more than 10 years. She has co-authored papers for Horizons Research, Inc. and the Capital Region Science Education Partnership. Sherwood has a Ph.D. in curriculum and instruction from the University at Albany.
Photo Credits
Siri Stafford/Photodisc/Getty Images