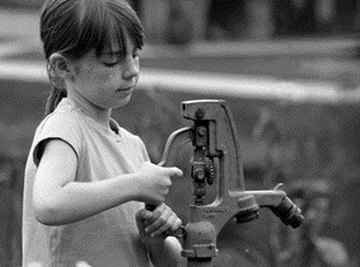 •••
girl using water pump image by sonya etchison from Fotolia.com
Old Well Pump Parts
Old well pumps are simple machines that use a system of valves and levers to move water up from a well underground. The pumps have a lever or a handle on the outside of the pump that a person pushes up and down. Inside the pump's cylinder is a piston, two valves, air and water. There is also a spout on the side of the pump.
Push the Lever Down
When the lever on an old well pump is depressed, it pushes the piston below the level of the spout, shutting off the flow of air--like when you cover the top of a drinking straw that is in a glass of water. The top valve is shut but the action of the lever opens the lower valve. This forces water up into the space vacated by the air.
Pull the Lever Up
When the lever is raised, the opposite valves open and shut. The lower valve closes, trapping the water in the cylinder and the top valve opens, admitting more air, raising the water level a bit more. Repeating the push and pull on the lever increases the volume of the water in the cylinder still more. Once it reaches the spout, water gushes out.
About the Author
Lesley Barker, director of the Bolduc House Museum, authored the books "St. Louis Gateway Rail—The 1970s," published by Arcadia, and the "Eye Can Too! Read" series of vision-related e-books. Her articles have appeared in print and online since the 1980s. Barker holds a Bachelor of Arts in sociology from Washington University and a Master of Arts in Teaching from Webster University.
Photo Credits
girl using water pump image by sonya etchison from Fotolia.com