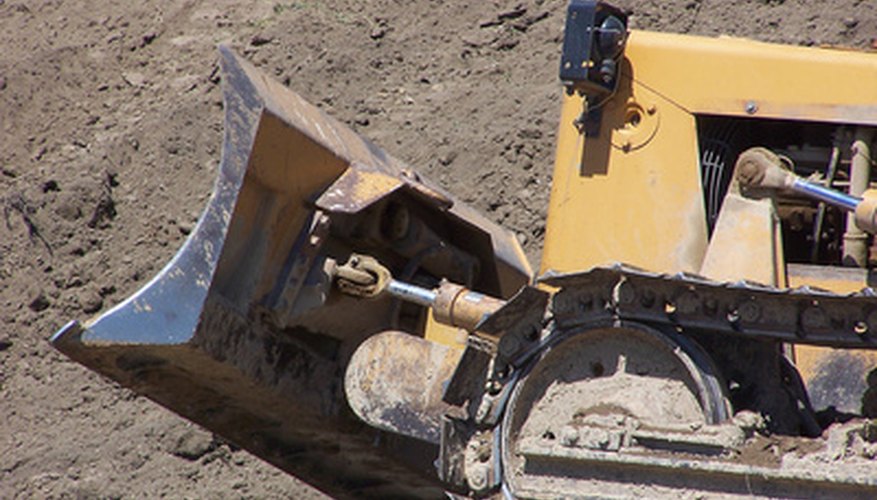 A bulldozer is a large engineering vehicle with a blade on the front that is used to move large amounts of soil. Bulldozers can also fell small trees and shrubs and clean up construction debris. With tracks instead of wheels, they can move over rough terrain easily. As with any large piece of machinery, you must be well-versed on how to operate a bulldozer before attempting to do so. They can be very dangerous and even deadly if you make a mistake.
Place the key in the ignition and turn it to the right to start the engine. Once started, release pressure on the key to allow it to change to the "run" position.
Locate the transmission control lever on the left side of the driver's seat. Push it forward to engage the transmission into "Forward" and pull back to engage the transmission into "Reverse". Adjust the throttle with the small lever just to the left of the transmission control lever. Pull this lever back to increase the engine speed and push forward to decrease the engine speed.
Adjust the transmission's gear by pressing the buttons on the transmission control lever. You will find one button that will increase the engine gear and the other will decrease it.
Control the blade with the blade-control handle, which is located on the right side of the seat. Push the handle forward to lower the blade and pull it toward you to raise the blade. Pull the handle right to tilt the blade to the right and pull it left to tilt the blade to the left. Swing the blade right by twisting the blade-control handle to the right and swing the blade left by twisting the blade-control handle to the left.
Tip
You also can slow down the bulldozer's movement by pressing the deceleration pedal. It is located on floor and is the pedal on the farthest right.
Warning
Always read the operation manual for the bulldozer you are operating. Failure to do so can result in serious injury or death.