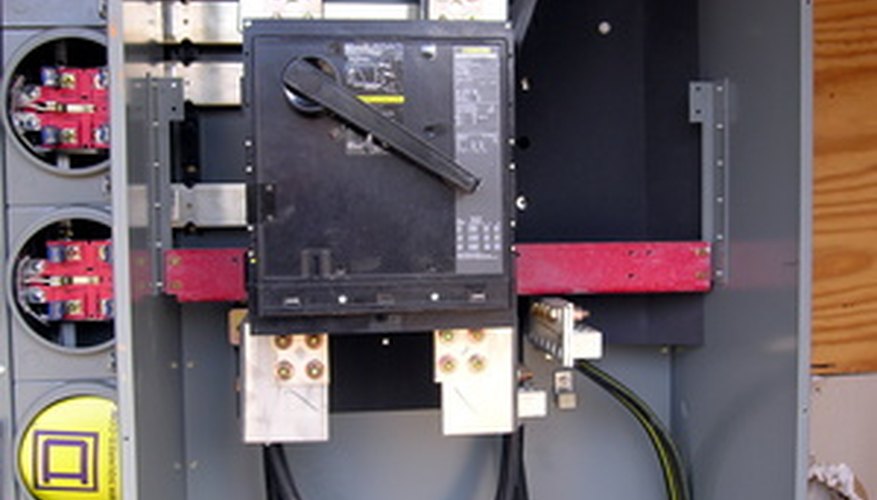 electrical panel switch image by jimcox40 from
Fotolia.com
An automatic transfer switch is a device used to reroute power in special circumstances. For example, during a natural catastrophe the public utility power may go out at a hospital and the automatic transfer switch starts the back-up generator. There are a lot of issues involved in such a transfer -- not the least of which is making the decision about when it is safe to switch back to public utility power.
Uses
Automatic Transfer Switches are used to insure the continuity of power supply, although this can mean different things in different situations. In a typical home, small business or institution, continuous power may mean that a short interruption can be tolerated. For example, if a backup generator is used to supply backup power when public utility power fails, there will be a pause while the generator starts up. In a hospital any interruption of more than a few seconds may be catastrophic. There are several ways that ATS can insure that the interruption is very brief -- including batteries to fill in the gap from the cessation of public utility power to the start of backup generator supply. Some automatic switches sense the temporary dips and spikes in public utility power that precedes failure and starts up the generator before the complete failure of public power.
Back Flow
One important issue in ATS control is back flow -- the flow from your backup power supply onto the primary power supply. There are two ways the transition from one power supply to another can be made : open transaction and closed transaction. With former, there is no problem with back flow; the switch disconnects from primary power before it connects to secondary, going through a brief instance when it is not connected to either power supply. The latter switches are more complex and they need to monitor power flow during transition and divert power -- using bypass capacitors -- to prevent back flow.
Reseting
Sometimes the ATS is reset manually -- and the generator is closed down manually as well. An automatic resetting ATS must constantly monitor the primary power supply and decide when the primary power supply is stable enough to be reconnected. In open transaction switches there will be a brief interruption when the ATS resets and the power supply is switched back. With closed transfer switches, the back flow issue is even more important during reconnect than it is during disconnect. In either case, the ATS usually monitors the shutting down and eventual disconnection of the back generator. This may include recharging of the batteries before the generator is shut down.