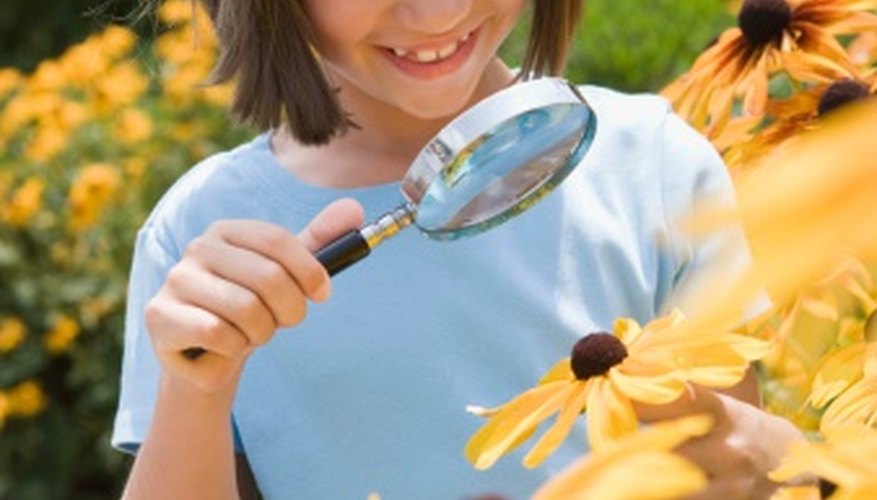 Jupiterimages/Comstock/Getty Images
Gardeners often choose plants because of the size and shape of the flower thinking that the bloom is the culmination of their efforts in gardening. To the plant, blooms are just the next stage of the real function of the flower. The flower is the reproductive part of the plant. It is where the seeds are produced. Each part of the flower plays an important role in the plant's reproductive process, or pollination.
Stamen
The male part of the flower is the stamen and is responsible for producing pollen. It consists of two main parts that are named the anther and filament. The anther produces the pollen needed to fertilize the eggs produced by the female ovary. The filament is a thread-like strand that holds the anther up. The anther is usually, but not always, yellow.
Pistil
The pistil is the female part of the flower; its function is to produce seeds. The pistil consists of the ovary, stigma and style. At the top of the pistil is the stigma and at the base is the ovary, where the eggs are produced. They are connected by a stalk, called a style. Pollen has to land on the style in order for pollination to occur. If it lands on another part of the flower, the male reproductive cell that the pollen contains won't reach the eggs.
Petals
The petals of the flower are important to the plant because the color and scent invite the pollinators. Not all plants are pollinated by insects and birds, however. Wind and breezes can move the pollen from the male part of the plant to the female parts. Some flowers contain both male and female parts and can self pollinate because of the proximity of the male anther to the female ovary. A collection of individual petals that make up a flower is called the corolla.
Sepal
Beneath the petals of the flower is a leafy structure called the sepal. A collection of sepals is called the calyx. Although usually green, sometimes the sepal can be as colorful and ornamental as the flower blossom itself. The sepal protects the bud of the flower.
Interesting Fact
Not all flowers are the same. Some flowers are made up of only male parts and others only female. Still another form of flower has both male and female parts. Botany refers to a flower that has both male and female parts as a perfect flower. Those forms with only male or female parts are considered incomplete and are called imperfect.