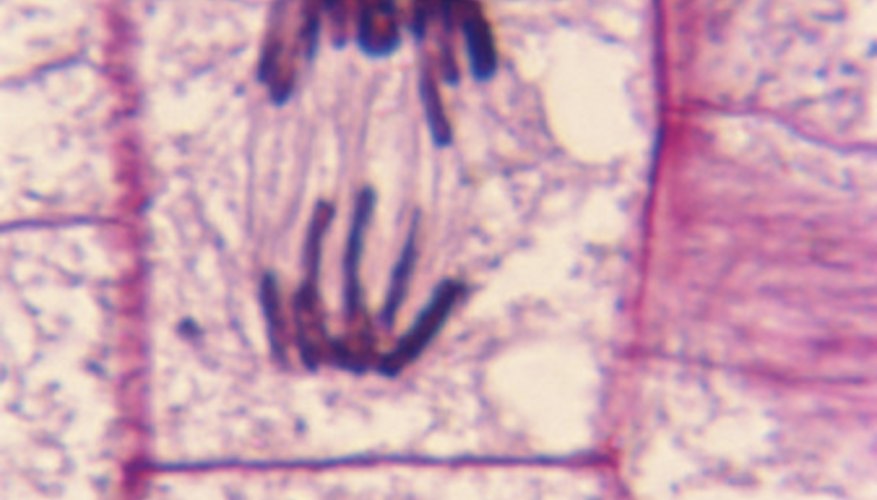 Jupiterimages/Photos.com/Getty Images
A yeast cell is a common type of eukaryote cell, according to History for Kids. While a yeast cell is not one, definitive size, it is normally four thousandths of a millimeter, or four microns, in diameter. This makes it much too small to see without the aid of a microscope. Yeast is a one-celled organism that consumes starches and sugars.
Nucleus
The nucleus is one part of a yeast cell, reports History for Kids. The nucleus of a yeast cell is made up of the lipid envelope of the cell and also the DNA molecule that is protected by this lipid envelope. A lipid envelope consists of big, hydrocarbon molecules, and it prevents the yeast cell's DNA molecule from getting damaged or broken in any way. To fit all the DNA into the yeast cell, a spiral shape termed a helix is formed.
Vacuoles
Vacuoles are another part of a yeast cell, according to History for Kids. These parts of a yeast cell are defined as small pockets in the cell's cytoplasm that are used to store food for the cell. Cytoplasm is a thick liquid that is found in the cell membrane; it holds the yeast cell's organelles. The composition of vacuoles is primarily amino acids and water. Since the cell's cytoplasm has salty water, vacuoles have a lipid membrane that works to keep this salty water out.
Endoplasmic Reticulum
The endoplasmic reticulum is comprised of a lipid membrane, which is similar to the composition of the cell membrane around a yeast cell, according to History for Kids. The endoplasmic reticulum of a yeast cell evolved approximately two billion years ago from the cell membrane around the cell's nucleus. "Endoplasmic" is a word that represents how the reticulum is floating around in the cell's cytoplasm. "Reticulum" is Latin for net. Thus, the endoplasmic reticulum is a small net that floats around in the yeast cell's cytoplasm.
Lysosomes
Lysosomes in a yeast cell began their evolution in the cell about two billion years ago. Lysosomes are known as tiny and round bubbles of lipid membrane, indicates History for Kids. The purpose of these lysosomes is to retain hydrogen molecules inside of them; these hydrogen molecules aid in breaking up bigger molecules into smaller ones. This process is basically the digestion of the food of the yeast cell, as well as the breaking up and recycling of garbage and poison in the cell. Lysosomes are known to break down captured bacteria and viruses inside the yeast cell that could destroy it.