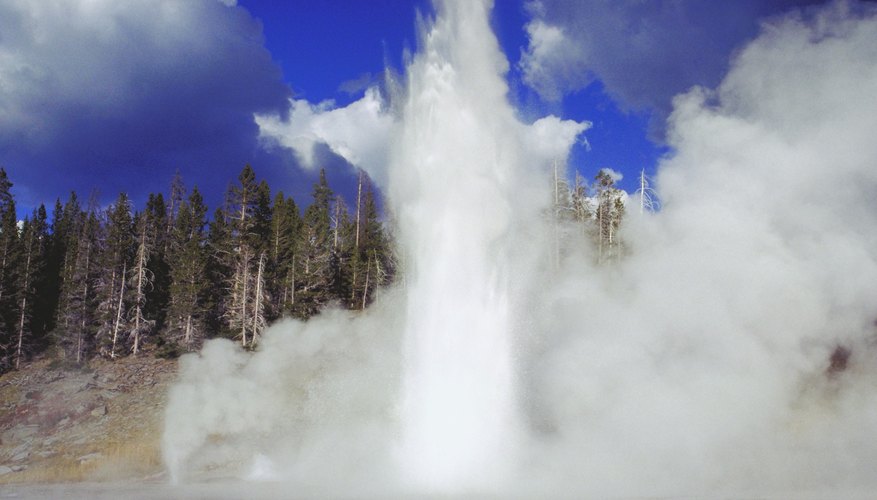 NA/AbleStock.com/Getty Images
In terms of atmosphere, there's no place in the solar system like Earth, with its nurturing environment for life. The planet's atmosphere consists of a number of gases of fixed concentration such as nitrogen, carbon dioxide, oxygen and argon. In addition, other gases in the atmosphere have varying concentrations, depending upon geography and time of the year. One such gas is water vapor, and its concentration depends upon local sources.
Oceans
Among the numerous sources of water vapor on Earth, the largest is the ocean. Sunlight warms the ocean, leading to evaporation of the seawater. The greater the temperature, the more water vapor is produced. Approximately 90 percent of the water vapor on Earth is produced this way.
Plants
Plants require water to carry out photosynthesis and create a food source. During this process, plant roots remove water moisture from the soil. Water is transported from the roots to the leaves, where it is used to carry out photosynthesis. A percentage of the water evaporates, however, and is released into the atmosphere. This process, known as plant transpiration, produces approximately 10 percent of the Earth's water vapor.
Geysers
Volcanic activity on the Earth produced a significant amount of atmospheric gases in the early atmosphere. Since then, volcanism has declined but still generates a small contribution of the water vapor in the Earth's atmosphere. A geyser is where groundwater interacts with brine heated from the Earth's magma and results in high-pressure water jets that erupt from the ground. A small percentage of the water evaporates into the atmosphere as the eruption occurs.
Percentages of Vapor
Because the creation of water vapor depends on the local environment, the percentage within the atmosphere hinges on geology and temperature. Above the ocean in warm environments, the percentage of water vapor within the Earth's atmosphere can be as high as 4 percent. In contrast, cold locations such as the geographic poles have water vapor values of less than 1 percent. This is due to two effects. First, higher temperature leads to more evaporation of local water into the atmosphere. Second, the amount of water that can be held within the atmosphere is higher at greater temperatures.