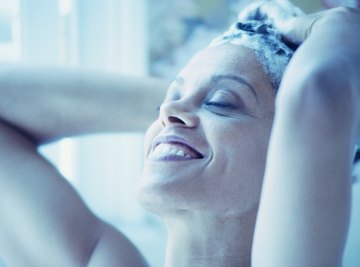 •••
Stockbyte/Stockbyte/Getty Images
The pH level of a substance is a measure of its acidity. The pH of healthy human hair is somewhat acidic, ranging from about 4.0 to 5.0. The pH of most shampoos is weakly acidic; in a study published in September 2014 in the Indian Journal of Dermatology, 24 of 38 shampoos fell in the range of 6.01 to 7.00.
More on the pH Scale
The pH scale measures the hydrogen-ion content of materials. It ranges from 0 at the low, or most acidic, end to 14.0 at the high, or most alkaline, end. Something with a pH of 7.0, being neither acidic nor basic, is neutral. It is a logarithmic scale, meaning that a numerical change of 1.0 actually represents a tenfold difference in acidity.
Shampoos vs. Hair
Shampoos are formulated to be acidic because of the physical nature of hair. Strongly alkaline solutions break the disulfide chemical bonds in hair, and at a pH of 12 hair actually dissolves.
References
About the Author
Michael Crystal earned a Bachelor of Science in biology at Case Western Reserve University, where he was a varsity distance runner, and is a USA Track and Field-certified coach. Formerly the editor of his running club's newsletter, he has been published in "Trail Runner Magazine" and "Men's Health." He is pursuing a medical degree.
Photo Credits
Stockbyte/Stockbyte/Getty Images