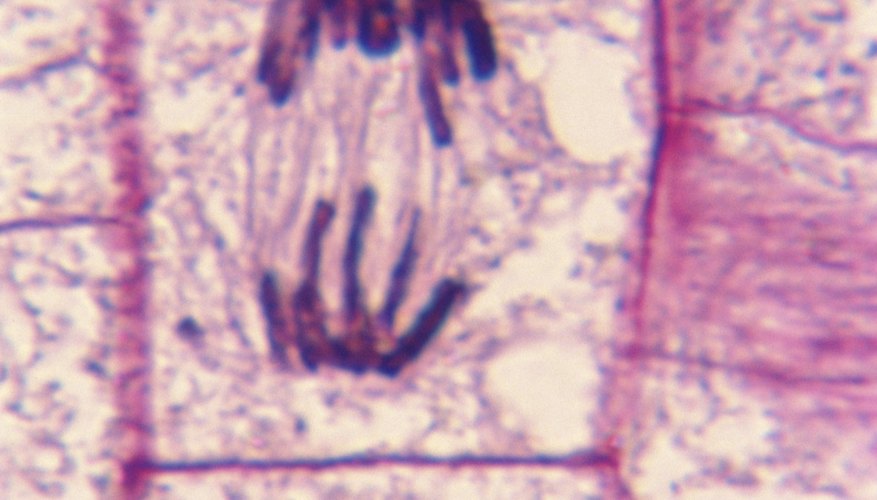 Jupiterimages/Photos.com/Getty Images
The color of your eyes, the length of your arm and all other human characteristics are determined by genes, which are found on the chromosomes inside a cell. Each human cell contains two pairs of 23 chromosomes. One set of 23 chromosomes is inherited from the biological mother, and the other set is inherited from the biological father. Each human has an estimated 25,000 genes. The structure of a chromosome is important, especially during cell division, when the chromosome separates into equal halves and duplicates. Chromosomes cannot be seen by the naked eye, or under a microscope, unless they are undergoing cell division.
Basic Structure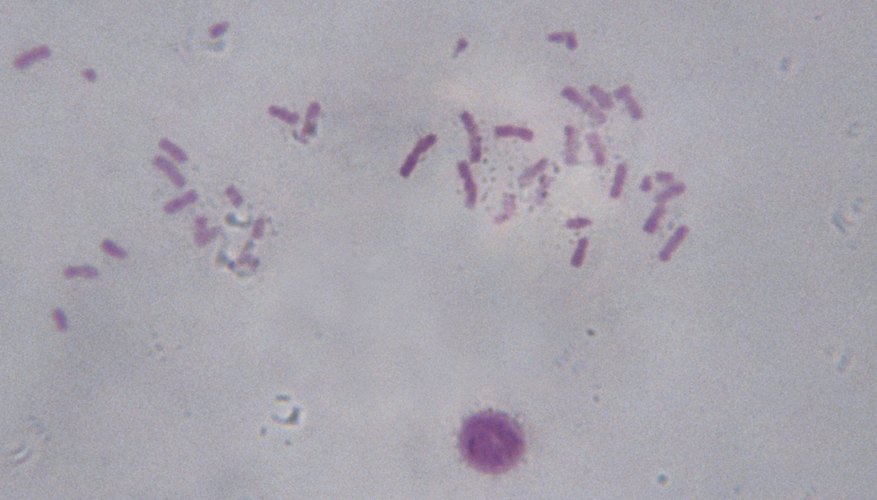 Duncan Smith/Photodisc/Getty Images
A chromosome looks like two identical bars side by side pinched together in the middle. Composed of two identical chromatids, the chromosome is joined in the middle by a centromere. The centromere is often located along the chromosome so that one end of the chromosome is longer than the other. The short arms of the joined chromosome are referred to as the p arms. The q arms are the longer sections of the chromosome.
Components of a Chromosome
The chromatin on the human chromosome are made up of the DNA double helix, which contains genes that determine our physical and genetic traits. The DNA is tightly wrapped around histones, which are the protein backbone of a chromosome. At its center, each chromosome is joined by a centromere, which becomes the site of attachment during cell division. The kinetechore of a chromosome is located on the centromere and attaches to the mitotic spindle during cell division.
Cell Division and the Chromosome
During cell division, the chromosome's shape aides in its replication. In the metaphase portion of mitosis, the centromeres line up along the center of a cell. Next, during a phase called anaphase, the centromere's kinetechores attach to the microtubules in the mitotic spindle of the cell and are pulled, separating the chromosome into single chromatids. These chromatids form new arms to form new chromosomes.
Chromosomal Abnormalities
When something goes wrong during cell division, structural and numerical abnormalities in chromosomes are the result. Numerical abnormalities occur when a person is missing a chromosome from a pair or has more than two chromosomes of a pair. Down's Syndrome is an example of a numerical abnormality in which an individual has three copies of chromosome 21 rather than two copies. Turner Syndrome occurs when an individual has only one sex chromosome.
There are many types of structural abnormalities, including cases in which a portion of a chromosome is missing completely or is duplicated, which results in extra genetic material. Translocations occur when a portion of one chromosome is transferred to another chromosome. Chromosomal inversions occur when a portion of the chromosome has broken off, turned upside down and reattached. A chromosome can also form a ring when a part of the chromosome breaks off and forms a ring shape.