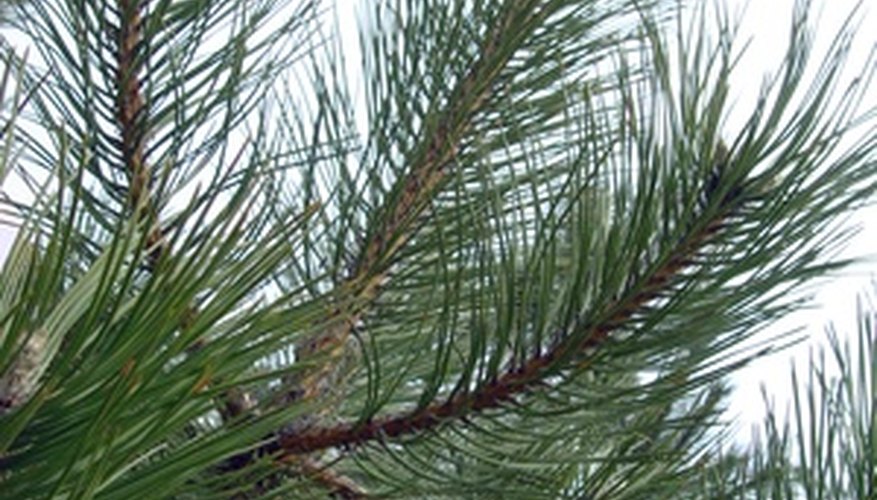 Prim Pines explains that there are over 100 species of pine tree in the world, and every pine tree grows thousands of needles over its life cycle. These pine needles vary in size and shape, but the purpose they serve to the tree remains the same regardless of the species. Facts about pine needles show how they help the pine tree survive and why they are good for the environment and manufacturing.
Size, Color and Shape
All pine needles are long and slender in shape. The length and color of the needle depends on the species of the tree, as well as the season and water available. Needles may look brown, whitish or deep green. The length of a pine needle ranges anywhere from short (5 inches or less) to very long (up to 15 inches), according to Prim Pine. On any given pine tree, the length of needles may vary by several inches.
Key Features
Pine needles have three key features when compared to flat leaves, according to Prim Pine. They have a thicker outer coating, as well as a thicker layer of protective wax. They also have less surface area because of their shape.
Purpose
As explained by April Holladay of Wonderquest, the key features of pine needles are not an accident. They are the product of evolution--with less surface area, thicker "skin" and more wax, pine needles let less water evaporate from the tree when compared with flat leaves. This conservation of water is crucial to the survival of the tree in arid climates and is what allows the tree to survive through the cold winter months.
Secondary Functions
Pine needles are beneficial to the pine tree, but they also aid the tree's immediate environment. According to the Greater Easter Jemez Wildland/Urban Interface, pine needles naturally interlock when they fall from the pine tree. They create a natural mat on the ground that prevents soil erosion, controls weed growth and gives water more time to absorb into the ground. Pine needles also naturally return nutrients to the soil when they decompose.
Fun facts
Pine needles can hang onto a tree for up to 5 years. Most fall off when they reach maturity. Long pine needles are commercially produced for crafts such as pine needle baskets. Pine needles are excellent for compost and can be baled just like hay or straw.