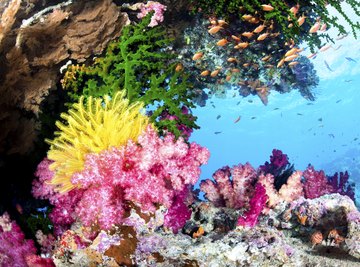 •••
joebelanger/iStock/Getty Images
From the Arctic to the Southern Ocean, the Pacific Ocean spans a massive swath of our planet and includes a range of ecosystems -- each with its own collection of plant and animal species. Generally speaking, the Pacific can be divided into three types of ecosystem: coastal, coral reef and open ocean.
Coastal Plants and Animals
While the coastal ecosystem can be divided into several subtypes -- mangrove forest, rocky shores and sandy shores -- many of these subcategories host similar plants and animals, all drawn to the relatively bright, warm waters of this zone. These include crabs, anemones, and coastal plants. Marine mammals, such as dolphins and whales, are also often seen relatively close to shore.
Coral Reefs
Corals often grow near a coastline, but the reefs they construct are considered their own unique type of ecosystem. From stony corals to fire corals, corals themselves are a diverse collection of animals. The reefs they collectively build are visited by and home to countless animals and sea grass, including coral trout, sea bass, sea birds, dugongs, whales, sea snakes, and mollusks, as well as sea grasses.
Open Ocean
Also called the pelagic zone, the open ocean might seem like a peaceful, homogeneous area of water. However, the pelagic zone is as diverse as any ecosystem on Earth. Marine algae and plankton flourish near surface waters, in turn becoming a food resource for baleen whales, tuna, sharks and other fish. Very little sunlight penetrates to depths of around 200 meters (about 650 feet), yet this depth is where the jellyfish-like ctenophores, menacing hatchetfish and snipe eels all live. Some of the planet's most bizarre animals live in the deep ocean below 1,000 meters (about 3,200 feet), such as vampire squids and seapigs.
References
About the Author
Brett Smith is a science journalist based in Buffalo, N.Y. A graduate of the State University of New York - Buffalo, he has more than seven years of experience working in a professional laboratory setting.
Photo Credits
joebelanger/iStock/Getty Images