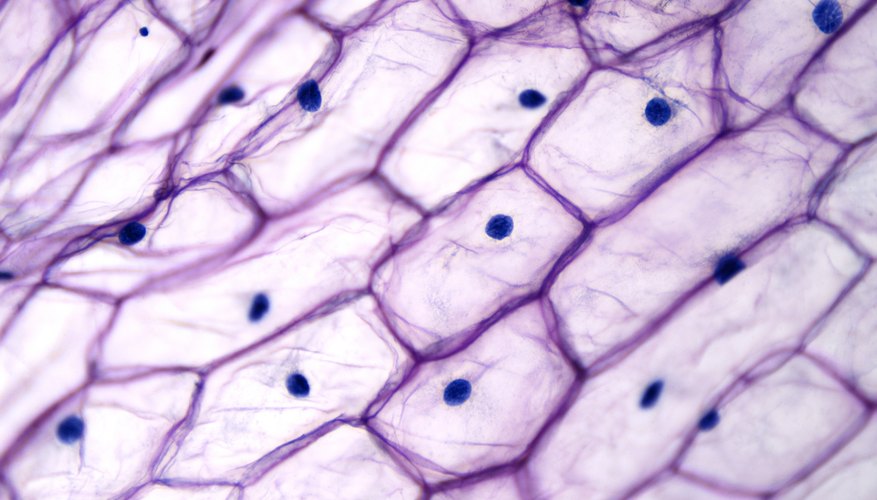 The plasma membrane, also called the cell membrane or phospholipid bilayer, is the sack that surrounds cells. Homeostasis is a state of balanced equilibrium, where everything is running smoothly. The plasma membrane maintains homeostasis by keeping cell contents in and foreign material out, and by providing controlled avenues for the transportation of fuel, fluid and waste.
Same Old State
"Homeostasis" means "same state." Cells in homeostasis are successfully maintaining the internal conditions necessary for basic functioning. The plasma membrane is absolutely essential for maintaining these conditions and this functioning. Simply put, the plasma membrane separates the inside of the cell from the outside. Without it, a cell is nothing more than a popped balloon, spilling its contents out into space.
Hydrophobic, Hydrophilic
Plasma membranes are made up of a phospholipid bilayer. Phospholipids are chains of fatty acids attached to a phosphate group. "Bilayer" means two layers. When phospholipids get together, they naturally form a double layer, with their phosphate groups facing out and their fatty tails pointing toward one another. The fatty interior of this layer is called "hydrophobic" because it repels water. The surrounding phosphates are called "hydrophilic" because they come into contact with fluid inside and outside the cell. The plasma membrane separates these two sets of fluids and their contents.
Passive Transport
However, keeping inside and outside separate is not enough. A completely isolated cell soon runs out of fuel and fluid and drowns in its own waste. The plasma membrane also maintains homeostasis by making sure materials can move in or out as necessary. Homeostasis depends on maintaining correct fluid levels within the cell and on exchanging useable materials, such as oxygen, for waste products, such as carbon dioxide. Plasma membranes allow water, oxygen and carbon dioxide to pass through by osmosis, or passive diffusion. This is when molecules travel through a semipermeable barrier along a concentration gradient -- that is, from an area of greater concentration to one of lower concentration.
Active Transport
Only a small number of materials can pass through the plasma membrane by passive diffusion -- if it were open to everything, it wouldn't be a barrier. Yet cells need to control the movement of a variety of other molecules in and out of their membranes to maintain homeostasis. To do this, cells have devised a variety of transport systems. These are proteins embedded in the lipid bilayer that act as gates, which the cell can open and close. There are three major types: pumps, channels and transporters. Pumps use energy produced by the cell to move molecules against a concentration gradient. Channels open a gate for molecules to flow with their concentration gradient. Transporters bond to specific types of molecules and carry them through the membrane.