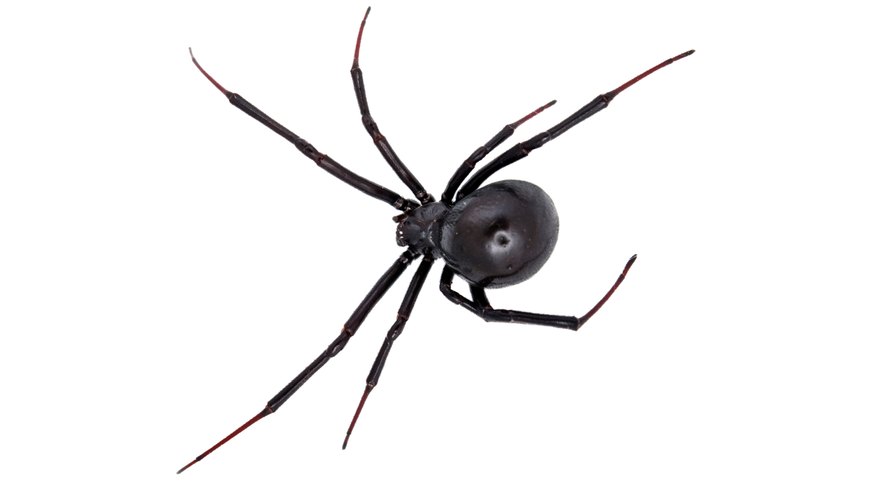 The majority of spiders living in Illinois are not poisonous. Only two kinds of spiders -- the brown recluse (Loxosceles reclusa) and the black widow (Latrodectus spp.) -- found in the state have a dangerous, venomous bite. Protect yourself by trying to identify these spiders when you come across them while working in a garden, yard, garage or shed. Sometimes you may be bitten by a spider without realizing it, however. Learning the characteristic symptoms caused by these spiders' bites can help you differentiate them from other insect or spider bites.
Brown Recluse Characteristics
You can identify the brown recluse spider by a dark-brown, violin-shaped marking on its back. Sometimes the violin shape is difficult to make out. The brown recluse is a medium-size spider, with a 3/8-inch body and long, uniformly light-brown legs.
It hides in undisturbed areas, such as under rocks and logs and in woodpiles. A shy spider, it stays in dark, secluded places during the day and comes out at night.
The brown recluse is not an aggressive spider, but it will bite when it "feels" trapped.
Brown Recluse Bite Symptoms
The itchy redness and burning pain caused by the bite of a brown recluse spider usually only occurs a few hours after the bite. The area around the bite will have a purple or dark-blue circle. A blister or ulcer may develop and turn black. Other symptoms include chills, fever, a rash, headache, body aches, nausea or vomiting. Rarely, a brown recluse bite leads to coma, kidney failure or seizures.
Black Widow Characteristics
The black widow spider is small and shiny black. A female has a characteristic red hourglass marking on the underside of its belly, though the hourglass marking may be broken, and some spiders display only a row of red dots on their backs. A male is smaller that the female and has a whitish underside with red markings on its abdomen's top or underside. The body of a female is about 1/2 inch long, but the female is about 2 inches long when its legs are taken into account. The male's body length is under 1/4 inch. A female black widow spider often hangs upside down in its web, showing off the hourglass marking on its underside.
A black widow spider is not aggressive but will bite when it "feels" it or its web are attacked. Only the female spider, and not the much smaller male spider, is dangerous.
A black widow spider takes up residence in holes, under stones, in tree stumps and in various kinds of structures.
Black Widow Bite Symptoms
A bite from a black widow spider causes immediate and sometimes intense pain. The first signs at the bite site are swelling and redness. Accompanying symptoms are severe cramping and abdominal pain. Other symptoms often include sweating, dizziness, headache and pain in the chest, back and shoulders. The bite can lead to weakness, tumors and paralysis of the legs.
The venom from a black widow spider bite can damage the nervous system. Therefore, a bite requires rapid medical attention.
First Aid Treatment
If you think you were bitten by a venomous spider, wash the affected skin area with soap and water. Apply an icepack or cold compress to the site. The ice reduces swelling and helps to lessen pain. Apply an antibiotic cream or lotion to the bite to protect against infection. Relieve pain with an over-the-counter pain medication.
See a medical professional for further treatment. Prompt medical attention is especially warranted for children because they may be more susceptible than adults to the severe effects of the venom.
Medical Treatment
A venomous spider's bite may require medical treatment such as prescription medicine or even hospitalization. Prompt medical treatment can help prevent serious complications.
If you are not sure that you were bitten by a venomous spider but experience severe pain at the bite site or other venomous spider bite symptoms, then contact a medical professional or call 911. If you want additional advice and information, call the National Poison Control Center at 1-800-222-1222.
Brown recluse bites sometimes are treated with corticosteroid medication, and a severely ulcerated area may require surgery. Black widow spider bite treatment may include muscle relaxants and supportive care.