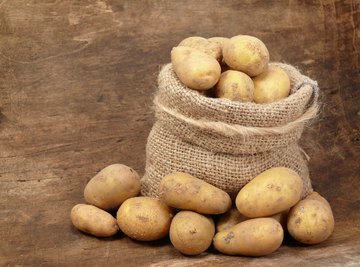 •••
Joerg Mikus/Hemera/Getty Images
A potato clock is powered by acid within the spud reacting with a positive and a negative electrode. When the reaction occurs, electrons flow between the materials, generating an electric current. The negative electrode, or anode, in a potato battery is often made from zinc in the form of a galvanized nail. The positive electrode, or cathode, is often made of copper, which could be in the form of a penny.
Potato Power
A potato battery to power a clock requires only a potato, two pennies, two galvanized nails and three insulated copper wires. When the zinc nail inserted in one end of the potato contacts the mild phosphoric acid (H3PO4) within the potato, it loses electrons in the reaction. These electrons are then picked up by the penny inserted into the other end of the potato. This "flow" of electrons is an electrical charge. Although the potato battery only generates a few volts of electricity, researchers from the Hebrew University of Jerusalem announced in 2013 that they have made serious progress in developing a potato-based power supply that could be used to charge a cell phone or laptop computer.
References
About the Author
Brett Smith is a science journalist based in Buffalo, N.Y. A graduate of the State University of New York - Buffalo, he has more than seven years of experience working in a professional laboratory setting.
Photo Credits
Joerg Mikus/Hemera/Getty Images