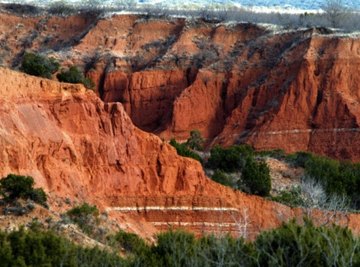 •••
Jupiterimages/Photos.com/Getty Images
The state of Texas evokes sweeping plains and open spaces, hill country and Gulf Coast beaches. Texas is not as renowned as a source for gemstones. Nevertheless, due to some interesting geological features in the state, treasures can be found underfoot in the right places.
Texas Rocks and Minerals
Texas boasts a number of rocks and minerals. Among these, Texas gemstones do exist. Some of the collectible, semi-precious and precious gemstones found in Texas include agate, topaz, opal, turquoise, jasper, petrified wood, turquoise and other crystalline and quartz varieties.
Blue Topaz: Iconic Texas Gemstone
Blue topaz is the state gemstone of Texas. A true Texas gemstone, blue topaz often is cut with the Lone Star cut to showcase the state's symbol in the jewel. Texas blue topaz is a light-blue variety of the mineral topaz. Texas blue topaz is chiefly found in Precambrian granite. Mason County in Central Texas boasts much of the blue topaz in the Lone Star State. In Mason County, rockhounds can find gem-quality pale blue topaz.
Historically, blue topaz was considered quite rare. However, after the 1960s, a process emerged by which colorless topaz could be transformed into blue topaz. This greatly devalued naturally blue topaz as a result. Today, blue topaz is not expensive. It is quite striking in hue, however, and naturally-blue topaz still provides gemstone-quality jewels.
No commercial blue topaz mines exist in Texas. In Mason County, look for blue topaz in granite outcroppings near Grit, Streeter and Katemcy. Certain ranches specialize in giving access to blue topaz sources for a fee. When searching for blue topaz, use a pick and a shovel, and a mesh screen for sifting out small pieces of topaz. Digging after a rain might prove to be easier for your topaz treasure adventure.
Texas Gemstones in the Llano Uplift
The geologic feature in Texas called the Llano Uplift features over 200 varieties of Texas rocks and minerals in Llano County alone. Some of the Texas gemstones found in the Llano Uplift include the purple quartz amethyst, garnet, other varieties of quartz, and vivid, deep-blue azurite.
Turquoise in Texas
While not as renowned for turquoise as neighbor state New Mexico, Texas possesses some of this sky-blue gem. Historically, this Texas gemstone existed along the Culberson-Hudspeth county line. Texas has not been a major producer of turquoise.
Types of Agates in Texas
Texas provides a broad array of agates for aficionados of this unique mineral. Available in many colors, agates can be found in West Texas and the Big Bend area.
Christmas agate features bands of green, red and white, giving it its seasonal name. These agates can be found in Big Bend.
In West Texas, myriad colors of Texas plume agate await treasure seekers. Banded blue agates can be found near Alpine, Texas. Honey onyx, a translucent variety of agate, can be found in the McCamey area. The so-called thunder egg banded agate geodes can be found in West Texas as well.
Opals in Texas
One popular Texas gemstone is common opal. Typically, this kind of opal can be found along with chalcedony in the Texas coastal plain region. Rockhounds may find common opal as nodules or veins. Fayette County, Texas boasts opalized wood.
In Central and West Texas, common opal exists in red, blue, brown, colorless or yellow varieties.
Vanadinite Crystals in Texas
In the Terlingua area of Brewster County, Texas, collectors might unearth vanadinite crystals. Typically blood-red, vanadinite crystals also exist in rusty and yellowish hues.
Something for Everyone
For rockhounds of all ages, Texas rocks and minerals abound. You might also encounter petrified wood and other kinds of fossils in your search for precious gems. When seeking Texas gemstone treasures, be sure to pay close attention to signs and stay off private property.
References
About the Author
J. Dianne Dotson is a science writer with a degree in zoology/ecology and evolutionary biology. She spent nine years working in laboratory and clinical research. A lifelong writer, Dianne is also a content manager and science fiction and fantasy novelist. Dianne features science as well as writing topics on her website, jdiannedotson.com.
Photo Credits
Jupiterimages/Photos.com/Getty Images