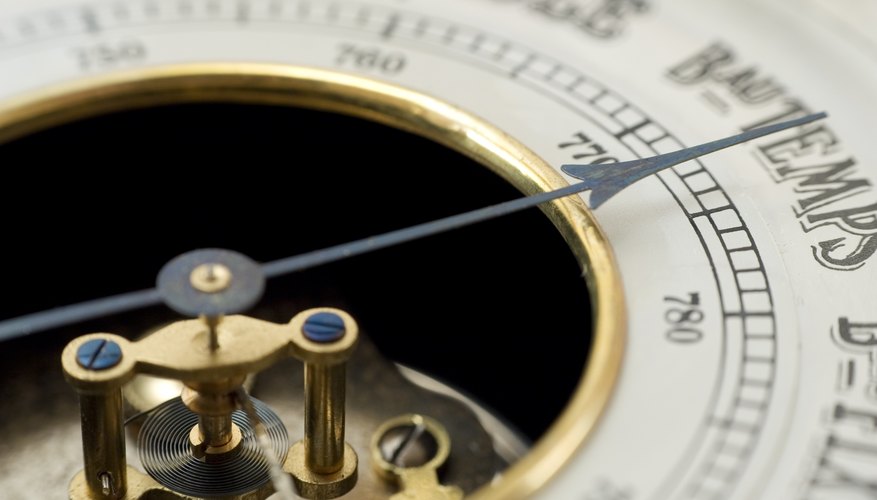 You can make short-term and local weather predictions simply by using a barometer. A barometer measures air pressure, and both levels of air pressure and changes in them can be usefully used to predict weather. Before the invention of satellites, almost all weather prediction was done with networks of barometers.
A barometer measures air pressure just as a tire gauge measures the pressure in your tires--except a barometer is measuring the pressure of the atmosphere. High air pressure relative to average levels is associated with calm and sunny weather. Low air pressure is associated with bad weather, high winds and rain or snow. So you could tell whether it is warm and sunny by looking at your barometer and seeing if the air pressure is high. This is not, however, all that useful as you can also look out of the window and observe the same thing. So what you want to do is measure changes in air pressure.
Just as high pressure means warm and sunny, rising pressure means that it will be becoming warmer and sunnier. The same principle holds true for falling temperatures and colder, windier and wetter. To measure which direction things are moving, take your watch and mark the time. Observe the air pressure on the barometer. Come back at some predetermined time later (30 minutes, perhaps) and observe the air pressure again. If the pressure has risen, the weather will be getting better. If it has fallen it will be getting worse. Almost all barometers will have a small marker that allows you to set the position of your first observation.
After you have measured which direction the air pressure is moving, you have to interpret the results, which is more of an art than a science. The faster the pressure is changing, the faster the weather will change and the worse (or better, dependent upon the direction of change) it will get. Further, weather does not change in an instant: Falling pressure now is almost certain to continue for many hours, perhaps a day or two, meaning that we can predict that the weather will be bad later today and tomorrow from our observation. However, pressure does not fall or rise all the time. So a barometer cannot be used with any accuracy to predict more than two or so days into the future.
TL;DR (Too Long; Didn't Read)
The basic rules of thumb are: If the barometer measures low air pressure, the weather is bad; if high pressure, it is good. If pressure is falling, then the weather will get worse; if rising, better. The faster it is falling or rising, the faster and more the weather will change.