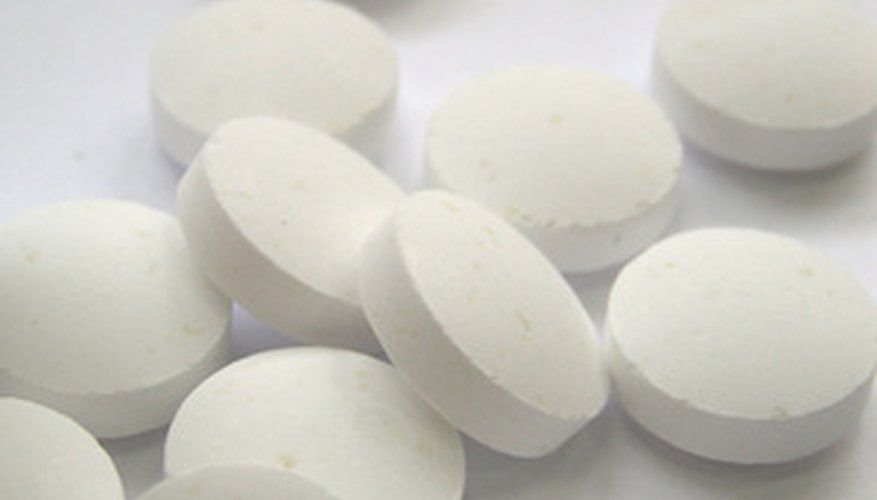 tablet tablets medicine image by Pali A from
Fotolia.com
Protease inhibitors are enzymes that inhibit the actions of proteases, which are certain enzymes that kill proteins within the cells. There are several proteases that target different proteins. Therefore, to preserve the functionality of proteins after the cell lysis, a combination, or cocktail, of protease inhibitors is used. These are available in solution, tablet or powder form.
Protease Inhibitors
Make Aprotinin, Leupeptin and Pepstatin at stock concentraions of 100uM (MicroMolar).
Aprotinin is available in solution form at a stock concentration of 100mM. To make 1 ml (milliliters) of 100uM, dissolve 1ul (microlitre) in 999ul of the 1X PBS (Physiological Buffer Solution).
Leupeptin is available as a powder. Molecular weight of Leupeptin is 475.6. Dissolve 100ug (micrograms) of powder in 2ml of water to make stock concentration of 100uM.
To make Pepstatin, dissolve 100ug of powder pepstatin in 1.45 ml of water to make a stock concentration of 100uM.
All these can be either mixed together or stored individually at minus 80 degrees Celsius.
Make PMSF (Phenylmethyl sulfonyl fluoride) at stock 100mM. PMSF comes in the powder form. The molecular weight of PMSF is 174.19. Dissolve 10mg of PMSF in 572 ul of 100 percent ethanol and store at 4 degrees Celsius. It is light sensitive and shall be stored in dark.
This is added to the lysis buffer just before use.
Mix the proteases together at the required concentrations. Generally they are diluted by a factor of 100 for use.
Tip
Commercially available cocktails of protease inhibitors save time and are easy to use. They come in the form of tablets or solutions.