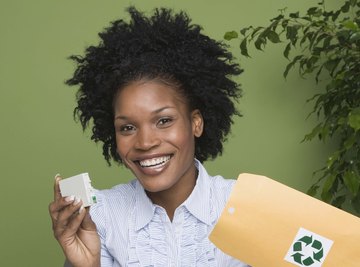 •••
Jupiterimages/Brand X Pictures/Getty Images
A biodegradable substance can be decomposed by microorganisms and other naturally occurring biochemical reactions. The biodegradability of printer ink depends on the ingredients used in its production. The two main categories of inks are petroleum-based and vegetable oil-based, although the two can be mixed together. Biodegradability is dependent on the percentage of vegetable-based oils.
Petroleum-Based Inks
Because they dry faster than vegetable-based inks, petroleum-based inks have become the widespread standard in the printing industry. Even soy-based ink and other partially biodegradable inks contain petroleum-based additives, according to one study by the Environmental Protection Agency. Petroleum and its chemical derivatives, however, consist of inorganic compounds such as heavy metals and minerals that are not biodegradable.
Ink Evolution
Early in the 20th century, most inks were made from oils derived from soy, canola and even corn. Once the superior drying qualities of petroleum-based inks were discovered, they became the industry standard by the mid-1900s. Not until the oil shortages of the 1970s did the printing industry begin pursuing vegetable oils as alternatives to petroleum-based oils in printing inks.
Biodegradable Inks
Because they are less toxic than petroleum oils and decompose over time, biodegradable inks take up less space in landfills, and reduce the risk to workers and the need for toxic cleaning solvents on printing presses. While some inks available to consumers contain vegetable-based oils and are biodegradable in part, there is still no widely available ink that is completely biodegradable, as of 2013. Most soy-based inks, for example, still contain at least 10 percent petroleum oils, according to the EPA.
Soy-Based Ink
Soy bean oil has increasingly been used in combination with petroleum based-chemicals in inks. According to the EPA, any "soy ink" must contain at least 20 percent soy-based oils, and ink biodegradability increases as this percentage of soy oils increases. The USDA hopes to develop a highly biodegradable ink with high performance properties made from 100 percent soy-based oils and no additional petroleum-based chemicals.
References
About the Author
Taylor Echolls is an award-winning writer whose expertise includes health, environmental and LGBT journalism. He has written for the "Valley Citizen" newspaper, where his work won first- and second-place awards in sports and outdoor features from the Idaho Press Club. Echolls holds a B.A. from Mount Holyoke College.
Photo Credits
Jupiterimages/Brand X Pictures/Getty Images