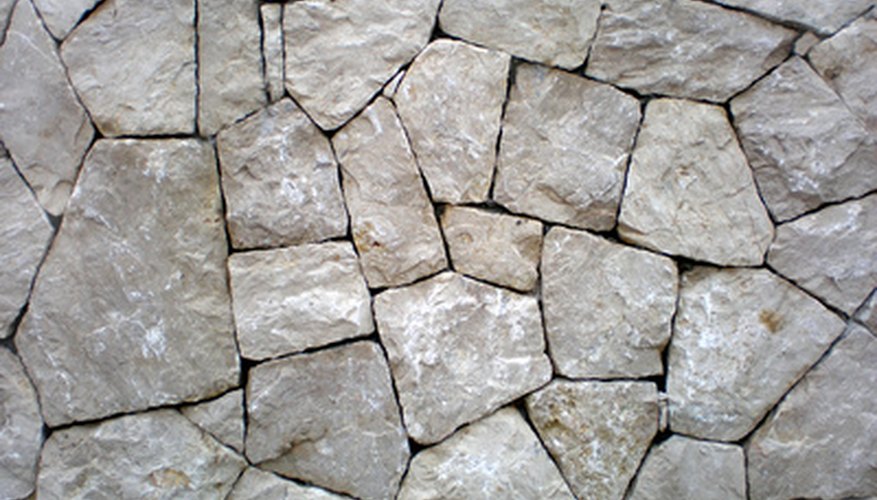 structure, stone, wild stone image by Oleg Guryanov from
Fotolia.com
Soda blasting is a cleaning procedure that uses compressed air to project sodium bicarbonate at high pressure. It's such a non-destructive process that it was trusted to clean the iconic Statue of Liberty in the late 1980s, with a fitting level of authoritative efficiency. Other applications include paint cleaning, graffiti and rust removal as well as rust prevention on steel. It does, however possess a few drawbacks and difficulties.
Mess
As with any blasting process, there will undoubtedly be a mess. A fine dust will radiate out from whatever you are cleaning, which is of course due to the nature of the abrasive. This effect cannot be prevented, but you can contain the dust by choosing and preparing your treatment area carefully. It may be obvious to mention, but it is very important that you do not expose anything that you do not want blasted. Of course your treatment area will vary depending on what you are blasting, so if it is a vehicle or an object that can be moved it is advisable to contain the dust to a small area that you can comprehensively cover up. If it is an object that cannot be moved, like masonry, then unfortunately the dust will travel.
Not Abrasive Enough for Cars
Unfortunately it would not be advisable to use soda blasting on anything metallic besides steel, as it simply isn't abrasive enough. It is a common mistake for people to blast a vehicle that they may be re-painting or renovating, due to the non-destructive properties. Soda blasting isn't strong enough to entirely clean or strip the metal. In addition, the material will have a tendency to get into areas that you will find difficult to remove it from. The biggest concern really, is the after-effect of the product because, although it can remove rust, it can also cause it if not rinsed or removed thoroughly. Sodium bicarbonate is similar to sodium chloride (salt) in that it is a conductive material and will cause electrolysis between different metals in the make-up of the cars panels.
Must Be Thoroughly Rinsed
It is not just important to remove the material after blasting it onto metal but with anything you wish to reapply paint to. Unless you rinse the soda off, the paint will not be able to bind properly and the finish will definitely be compromised. You can rinse the soda off with vinegar and warm water or soap and warm water, as either will act as an effective neutralizer.