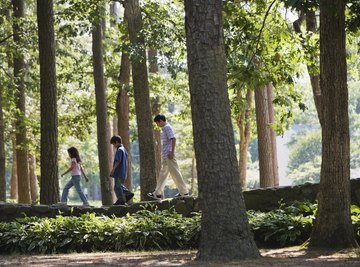 •••
Comstock Images/Stockbyte/Getty Images
Oxygen is essential to enabling many of the Earth's life forms to survive -- without access to oxygen, humans can't live for more than a few minutes. The air that enters human lungs contains about 21 percent oxygen. The process responsible for producing most of the Earth's oxygen is known as photosynthesis. In this process, plants and certain other organisms convert sunlight into oxygen and other products.
Initial Sources
Earth's atmosphere didn't originally contain oxygen. Manganese oxidation, a chemical reaction, is thought to have been the original source of atmospheric oxygen. A group of aquatic organisms known as cyanobacteria were the first to produce oxygen through photosynthesis, however.
How Photosynthesis Works
Photosynthesis today is carried out by a variety of species, from basic cyanobacteria to algae, phytoplankton, green plants and trees. Photosynthesizing species rely on light energy from the sun. They take this energy, along with water and carbon dioxide molecules, and use these water and carbon dioxide molecules to build carbohydrates, their food source. In the process, they also produce oxygen, which to them is primarily a waste product, but it's a necessity to the survival of humans and countless other species.
Terrestrial Plants
Terrestrial, or land-based, plants -- such as flowers, grasses, ferns, shrubs and trees -- produce up to half of the planet's oxygen. Rainforests, with their dense canopies and vast diversity of plant species, are themselves responsible for one-third of the Earth's oxygen production. This vital function is one of myriad reasons that humans must work to preserve and maintain forest ecosystems.
Oceanic Photosynthesis
Almost all of the rest of the world's oxygen comes from photosynthesis taking place in the oceans. Phytoplankton are the main organisms responsible for oceanic photosynthesis. These one-celled plants obtain most of their carbon dioxide not from the air but from the depths of the ocean. Much of the oxygen they produce eventually makes its way into the atmosphere, however. With respect to their size, phytoplankton are highly productive at photosynthesis, about 200 times more so than their land-based counterparts.
References
About the Author
Based in western New York, Amy Harris began writing for Demand Media and Great Lakes Brewing News in 2010. Harris holds a Bachelor of Science in Mathematics from Penn State University; she taught high school math for several years and has also worked in the field of instructional design.
Photo Credits
Comstock Images/Stockbyte/Getty Images