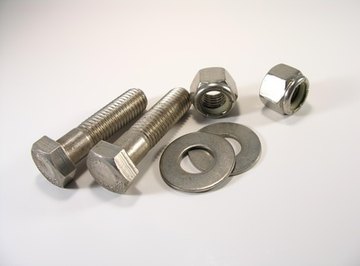 •••
stainless steel image by Tom Oliveira from Fotolia.com
Hardened steel is a type of medium to hard plain carbon steel that has undergone heat treatment, quenching and further reheating. Components made of hardened steel have a hard exterior casing and a robust core, and include arbors, axles, link components, driving pinions, camshafts and cardan joints. Application areas of components made from hardened steel include transportation, energy generation and general mechanical engineering. Types of hardened steel include Z60CDV14, Sandvic 12C27, CPM440V and ATS34.
Wear Resistance
Hardened steel is resistant to wear, rough usage, high-impact pressure and shock. It is used to make power shovels, steel balls, nozzles, surgical instruments, crushers and plates for rock-processing. Steel with a sufficient amount of chromium that undergoes heat treatment hardens to form chromium carbide particles, which increase the wear resistance of the steel alloy. Hardened steels with a greater concentration of carbon contain a higher amount of chromium carbide and exhibit enhanced wear-resistance properties.
Corrosion Resistance
According to "Surface Engineering for Corrosion and Wear Resistance," corrosion costs the U.S. billions of dollars annually by affecting materials and metallic surfaces used in industries. Hardened steel is resistant to corrosive chemical environments, potable water and atmospheric corrosion. Hardened steel is applied with corrosion-resistant coating to further enhance its resistive properties.
Abrasion Resistance
Hardened steel offers exceptional resistance to severe sliding abrasion and is able to withstand drilling and punching. Its abrasion-resistant properties enable hardened steel to be used in aggregates quarries and hard-rock mining, and to make conveyors, chutes, highway truck beds, crushers, hoppers and troughs.
Durability
According to "Steel Heat Treatment: Equipment and Process Design," the durability of heat-treated hardened steel is at least twice that of untreated and oil-treated steel. Hardened steel is used to make knives, the optimal hardness of which depends upon the proportions of carbon, manganese and chromium. Examples of hardened steels used in knife-making include the 154 CM (chromium 14 percent, manganese 0.5 percent and carbon 1.05 percent); 420HC (chromium 13.5 percent, manganese 0.35 to 0.9 percent and carbon 0.5 to 0.7 percent); and ATS34 (chromium 14 percent, manganese 0.4 percent and carbon 1.05 percent). Knives made from these hard steels last longer than those made from regular soft to medium steels.
References
About the Author
Natasha Gilani has been a writer since 2004, with work appearing in various online publications. She is also a member of the Canadian Writers Association. Gilani holds a Master of Business Administration in finance and an honors Bachelor of Science in information technology from the University of Peshawar, Pakistan.
Photo Credits