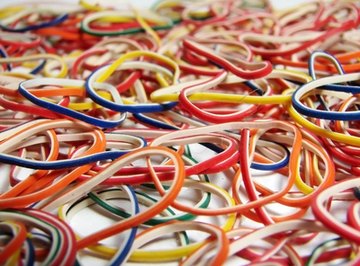 Both natural and synthetic rubber are used in the production of a range of products from tires to footballs to the soles of sneakers. Most natural rubber is produced from a softwood tree native to Brazil, though several other species of trees and shrubs are sources of rubber as well. Synthetic rubber is produced artificially from polymers in different varieties to mimic the different properties of natural rubber.
Natural Rubber
Natural rubber has a high tensile strength and is resistant to fatigue from wear such as chipping, cutting or tearing. On the other hand, natural rubber has only moderate resistance to damage from exposure to heat, light and the ozone in the air. Natural rubber also has tack, which means it can adhere to itself as well as other materials. It adheres particularly well to steel cord, which makes it an excellent material for use in tires.
Synthetic Rubber
In general, synthetic rubber offers better resistance to abrasion than natural rubber, as well as superior resistance to heat and the effects of aging. Many types of synthetic rubber are flame-resistant, so it can be used as insulation for electrical devices. It also remains flexible at low temperatures and is resistant to grease and oil.
Natural vs. Synthetic Rubber
Overall, the combined properties of natural rubber outweigh synthetic rubbers or combinations of synthetic rubbers available. However, synthetic rubber is advantageous because it is easier to produce. Natural rubber is a crop able to grow only in tropical climates and it doesn't age well, so for many countries it is easier to use synthetic rubber.. Synthetics may also be more useful in certain applications because of their resistance to extreme temperatures and corrosive environments.
References
About the Author
Michelle Labbe has been writing online and for print since 2004. Her work has appeared in the online journals Reflection's Edge and Cabinet des Fées as well as in Harvard Book Store's anthology, "Michrochondria." She is pursuing a Master of Arts in publishing and writing at Emerson College.
Photo Credits