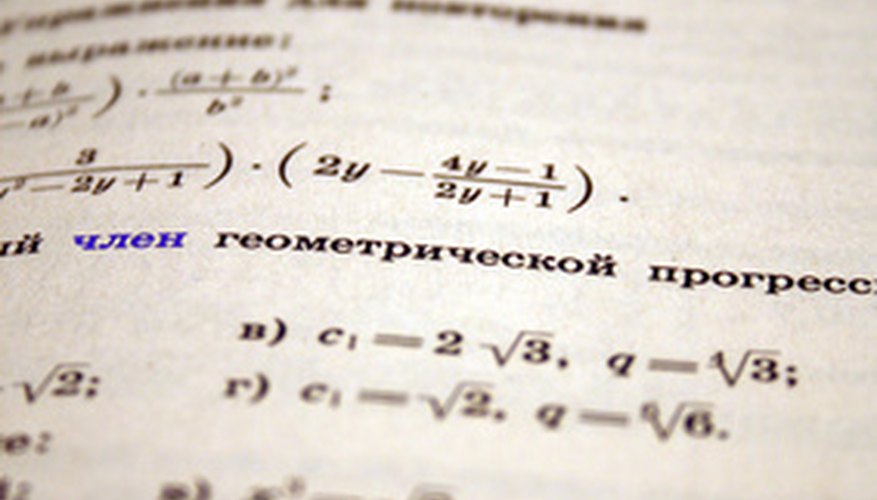 Numbers have several basic mathematical properties. These are the associative property, the commutative property, the distributive Property, and the reflexive property. These properties govern the ways in which mathematical functions may act upon numbers. In the case of subtraction, not all the properties apply.
The Associative Property
The associative property refers to the way in which numbers are grouped, according to Purple Math. If the Associative Property applies to a problem or equation, the solution to the problem will remain the same, even if the parts of the equation are rearranged: (a + b) + c = a + (b + c), or (1 + 2) + 3 = 1 + (2 + 3). The result is 6, no matter what the grouping. This is true in addition and multiplication, but there is no associative property for subtraction, because (a - b) - c does not equal a- (b - c), just as (5 -2) - 1 does not equal 5 - (2 -1). The first result is 2. The second result is 4.
The Commutative Property
The commutative property is named for the word "commute," which means to move from place to place. In the commutative property, the order of the terms does not affect the outcome of the equation, regardless of how they are grouped. In addition, this is reflected as: a + b = b + a, and in multiplication, as: a x b = b x a. Syracuse University points out that the commutative property does not apply to division or subtraction, since a/b does not equal b/a, and a - b does not equal b - a.
The Distributive Property
The distributive property states that "multiplication distributes over addition." This means that a(b + c) = ab + ac, or 1(2 + 3) = 1 x 2 + 1 x 3. The distributive property does apply to subtraction in that the parentheses can either apply to subtracting a positive number, or adding a negative one, as in: (x - 4), or x + (-4).
The Reflexive Property
The reflexive property holds that if b = a, then a = b. The order of the terms is not a factor in this property. This applies to all mathematical operations.