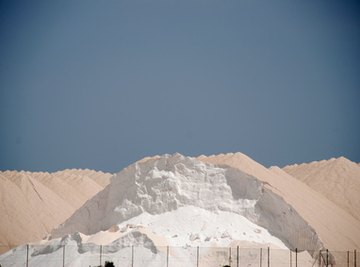 Water softeners reduce "hardness" (high mineral levels) in water. A proper water softening system looks at your source water and determines which minerals must be removed to bring your water to a more useful range.
Features
Hard water is water with high levels of dissolved minerals (calcium and magnesium) measured in many areas as being above 1g per gallon. Hard water leaves stains in laundry and makes water smell or taste bad. If your shower or sink has reddish-brown stains, you have hard water.
Water Softeners
As the name implies, water softeners reduce levels of water hardness. Many either directly remove minerals from hard water, or they replace ionic hardness with salt ions. Reverse Osmosis (RO) and water distillation systems will remove water hardness while disinfecting the water, but are more expensive. Water softeners focus on hardness only and are a cost-effective treatment if hardness is the only concern.
Water Softener Pros
A well-designed water softener system only removes the minerals causing hardness. The least expensive systems are magnetic, removing dissolved metals from the water by passing the source water across a magnet. By removing the metals, the remaining water is acceptable. More expensive systems trade calcium and other minerals for salt ions, leaving a less hard water where the colloidal salts pass through with little impact.
Water Softener Cons
If the problem with the source water is more than simply high levels of minerals, water softening will not help. Water softeners do not disinfect the water, they do not address most problems with taste and smell of organic sources, and many are ruined by exposure to even trace amounts of oils in the water. Salt-based water softening systems require a regular maintenance and replenishment schedule, which causes higher expense.
Alternatives
If the problems with source water (well or tap water) are organic, water softeners will not help. Point of use systems such as RO filters or countertop water distillers will deal with both hardness in the water as well as most organic or inorganic contamination problems in-house.
About the Author
Chris Donahue is an electrical engineer living in the Dallas area. He has worked on defense projects, semiconductor process equipment, instrumentation and is currently in water utilities. He earned his Registered Massage Therapist (RMT) standing in Texas in 1999.
Photo Credits