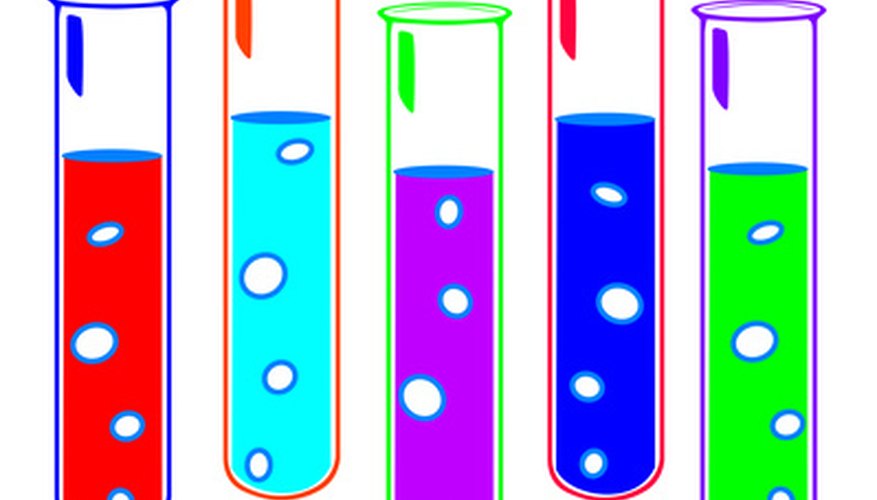 brightly colored science test tubes image by Steve Johnson from
Fotolia.com
Cells are the basic structural and functional units of the human body. They contain several different parts called organelles that contribute to the cell's ability to operate. Energy is provided by mitochondria, proteins are synthesized on ribosomes, DNA is contained in the nucleus and so on. If a scientist is interested in studying a particular component of one of these organelles, it is necessary to break the cell open, or lyse it, to isolate the organelles of interest from the rest of the cell.
Cell Lysis
Animal cells are bound by a semi-permeable cell membrane. Inside of the cell, organelles are suspended in a liquid called cytosol, or cytoplasm. The cytosol contains sugars, salts, soluble proteins and the structural proteins of the cytoskeleton--a structure that maintains cell shape. The cell membrane can be broken, or lysed, mechanically, chemically or by some combination of the two. For chemical lysis, cells are suspended in a solution that contains detergents and/or other reagents that interfere with the chemical bonds holding membrane proteins together. This results in membrane rupture and the release of intracellular components.
Subcellular Fractionation
Once cells have been lysed, it is necessary to separate the organelle or protein of interest from the rest of the components. Differential centrifugation uses the force of gravity to separate objects by density. Test tubes containing cell solutions are spun in a centrifuge at progressively higher RPMs (revolutions per minute), creating a pellet or fraction that contains the heaviest organelles at the bottom of the tube with each spin.
Purification
Once the fraction of interest has been obtained, it must be purified. Purification removes contaminants by exploiting differences in molecular characteristics, such as charge, shape or size. For example, the fraction of interest might contain two proteins that pelleted together because of similarities in density despite the fact that they have very different sizes. To separate the unwanted protein from the one under study, it would be logical to use another method to isolate the proteins by size.
Relevance to Human Disease
The ability to lyse cells and separate specific components has provided medical researchers and drug developers with important insights into the epidemiology of certain human diseases. For example, the membranes of cancerous cells can be compared with those of normal cells in order to develop treatments that destroy tumor cells but are harmless to healthy cells. Cell lysis is also used to study Alzheimer's disease, metabolic disorders and much more.
Considerations
Not all cells are created equal, so it is important to customize the protocol used for lysis to the characteristics of your particular cell population. It is equally important to consider exactly how you plan to study the component of interest. If you wish to assay the activity of an enzyme, it would be illogical to use a solution capable of destroying the enzyme's function. Manufacturers of chemical reagent kits used for cell lysis are usually happy to help you determine your needs.