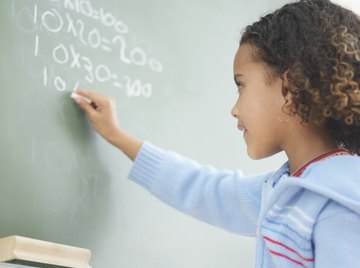 •••
Stockbyte/Stockbyte/Getty Images
Factoring is a common mathematical process used to break down the factors, or numbers, that multiply together to form another number. Some numbers have multiple factors. The number 24, for instance, results when you multiply the factors of 6 and 4, 8 and 3, 12 and 2, and 24 and 1. Factoring is useful in resolving various numbers-related problems.
Usefulness
When you divide a number by one of its factors, the result is another factor. For instance, 24 divided by the factor 3 yields 8. If you have a pie with eight pieces that you want to divide among four people, factoring helps you deduce that each person should get two pieces. Eight pieces divided by four people equals two pieces per person. Or four people times two pieces per person equals eight pieces.
References
About the Author
Neil Kokemuller has been an active business, finance and education writer and content media website developer since 2007. He has been a college marketing professor since 2004. Kokemuller has additional professional experience in marketing, retail and small business. He holds a Master of Business Administration from Iowa State University.
Photo Credits
Stockbyte/Stockbyte/Getty Images