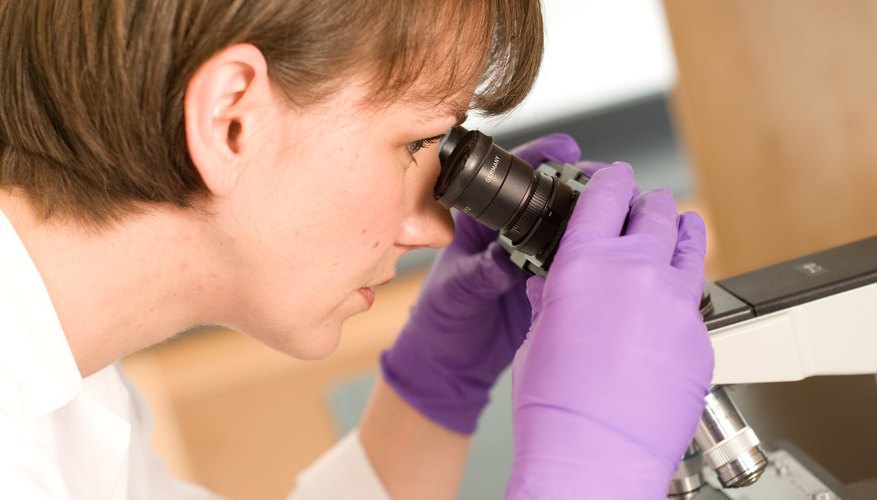 Jupiterimages/Photos.com/Getty Images
Microbiology is the study of organisms that are too small to be observed with the naked eye. Microorganisms include algae, bacteria and fungi. As a science, microbiology helps to improve human lives by providing identification-methods and by suggesting treatment methods for all manner of bacterial infections and diseases. Microbiologists also help to ensure a clean, healthy food supply. Scientists specializing in microbiology can find purposeful work in various industries.
Environmental Microbiologists
Environmental microbiologists study the many ways microorganisms interact with the environment. Scientists working in this field usually place an emphasis on microorganisms' interaction with plant life and animal life, as well as all environmental factors such as pollution and the changing of the seasons. Environmental microbiologists monitor the impact a constantly evolving Earth has on bacteria and other microorganisms. Environmental microbiologists may also study the ways in which certain microorganisms can work as effective agents to degrade various types of human and industrial waste products.
Medical Microbiology
Medical microbiologists place their focus on the detection, identification, and isolation of microorganisms -- such as bacteria and fungi -- that can cause disease. These scientists help to diagnose diseases such as meningitis and tuberculosis, and help to prevent the spread of diseases by identifying, containing, and treating disease in the human body. The work of medical microbiologists is constantly evolving as new bacteria and infections are identified and categorized.
Food Industry
When focused on careers in the food industry, microbiologists work with various food suppliers to ensure that products are free of pathogenic organisms before being delivered to the public. Microbiologists specializing in food-based bacteria can sometimes work with the Food and Drug Administration to help identify food products that can pose a risk to human health. Food industry microbiologists may also investigate food poisoning outbreaks, aiming to identify their causes in order to prevent recurrence.
Research Microbiology
Some microbiologists choose to work strictly in the laboratory, where they can study the life cycle and reactions of various bacteria and other microorganisms in a clean, controlled environment. Microbiological research can have a large impact on illness prevention and treatment, and can influence how various medications are ultimately distributed to the public.