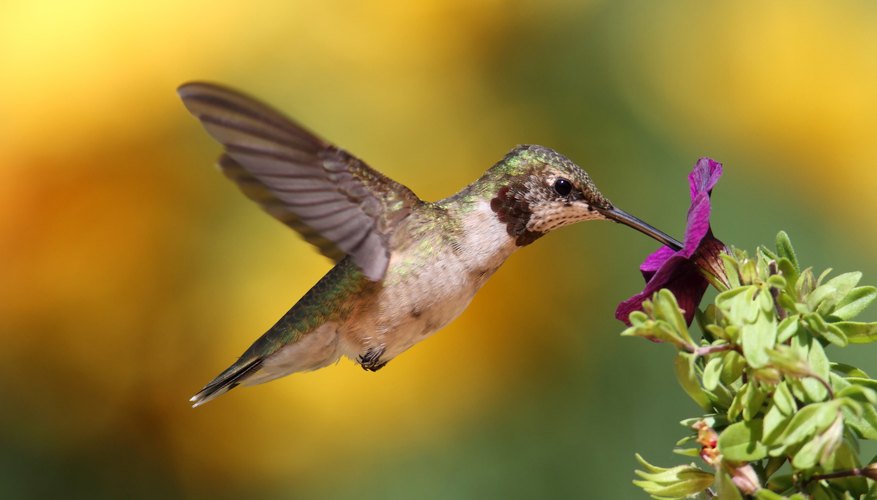 SteveByland/iStock/Getty Images
Hummingbird enthusiasts in Austin, Texas, should prepare their hummingbird feeders for a mid-March arrival of one or more species. From early spring to late fall, Austin residents can see numerous kinds of hummingbirds. Some of the birds even stay for the winter in coastal Texas locations each year. Texans who feed hummingbirds share in their migratory success because the birds leave energized to travel thousands of miles south for winter.
Austin -- Hill Country
Texas Parks and Wildlife sectioned the state into seven wildlife management areas, and each area is home to several varieties of hummingbirds every summer. Austin, in the Hill Country wildlife management area, is the summer home of hummingbird species such as broad-billed, rufous, black-chinned, broad-tailed and Anna's.
Austin residents usually begin to see hummingbirds in mid-March.
Anna's hummingbird has a dark bill with a red crown on its head. The broad-tailed hummingbird makes a loud buzzing sound while in flight and has a wide, rather than forked, tail.
A rufous hummingbird sports a red-brown back and dark bill. The broad-billed hummingbird has a bluish-green throat and chin as well as a reddish-orange bill.
Black-chinned is the only hummingbird with a purple band beneath a black chin.
Texas' Other Wildlife Regions
Texas Parks and Wildlife's other wildlife management areas are the Panhandle Plains, Prairies and Lakes, Pineywoods, Gulf Coast, South Texas Plains and Big Bend Country.
Allen's and broad-billed hummingbirds are two species that spend summers in the Big Bend Country and Gulf Coast areas.
The colorful ruby-throated hummingbird breeds in large numbers in the Panhandle Plains, Prairies and Lakes, and Pineywoods areas.
Black-chinned hummingbirds breed in the South Texas Plains area. They commonly spend winters along the coast in that region.
Other species that overwinter in Texas include rufous and buff-bellied hummingbirds. They reside year-round in the Gulf Coast area.
Arrival and Nesting
After leaving their southernmost migration areas, hummingbirds reach Austin and other Texas cities between mid-March and mid-May.
They begin breeding in early April and continue through early September. Hummingbirds still may be feeding their young as late as Sept. 1.
Outside cities, they breed near woodlands and flowering meadows. In cities, they breed close to flowering shrubs. In addition, the presence of a feeder will draw them to nest nearby.
Departure and Migration
Hummingbirds prepare to migrate south for the winter after watching their last brood leave the nest. Hummingbirds that spent summer in Texas may leave as early as the end of July and as late as mid-November.
Hummingbirds that summered in northern U.S. states and Canada travel through Texas on their way to Central and South America when migrating before winter, and they pass through again in spring. Except for in coastal areas of Texas, all hummingbirds usually are gone by the end of November.