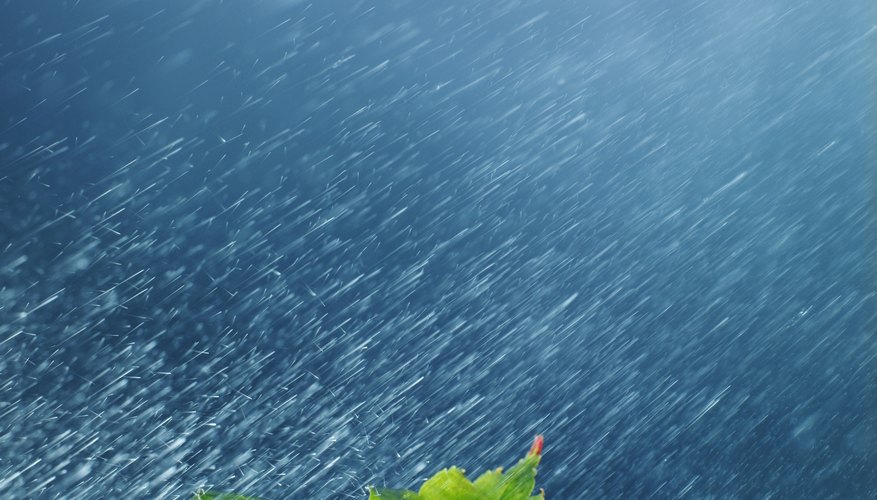 Ryan McVay/Lifesize/Getty Images
Clouds are often indicators of good and bad weather. The process of rain and cloud formation starts from the ground. Ideal conditions include a hot summer day in the tropics where the air is moist and the temperatures are extremely high. Heat causes water processes that allow for dark towering clouds to form and rain to pour.
Cloud Formation
Clouds form when water on land or in the ocean evaporates and rises high in the sky. The water vapor eventually cools and forms tiny droplets. The collection of tiny water droplets results in the formation of clouds. When the tiny droplets are closer to the ground, they are referred to as fog. Clouds have various shapes, sizes and textures, which can often indicate weather. They are categorized based on their shape, elevation, size and speed.
Rain Formation
When enough water droplets are collected in the clouds, they become heavy and fall as rain. If the weather is very cold, the tiny droplets freeze and fall down as snow, hail or sleet. The tiny droplets will stay suspended in the air and sway whichever way the winds blow them until they become condensed and heavy enough to fall down. The droplets become heavier when they acquire more water and grow into larger drops.
Rain Clouds
Different types of clouds include cirrus, cumulus, stratus and nimbus. The clouds that are associated with oncoming rain are nimbostratus and cumulonimbus. Nimbostratus clouds are dark and carry rain. They tend to cover the sky and shield the sun. Cumulonimbus clouds produce showers and thunderstorms. They have lumps and often produce rain that comes and goes.
Types of Rainfall
Rain falls from clouds in various ways including frontal and orographic rainfalls. Frontal rainfall occurs when moist air moves into an area where there is a front or low pressure. Frontal rainfall is usually widespread and less violent. Orographic rainfall occurs when air is forced to rise by land barriers like mountain ranges.