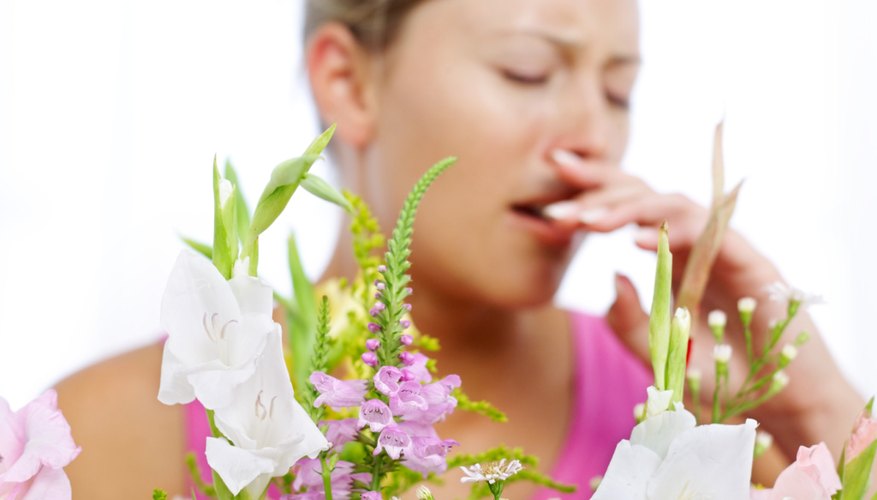 Allergy sufferers know the symptoms all too well -- itchy eyes, runny nose, a scratchy throat -- brought on by pollen in the air. The National Institutes of Environmental Health Sciences says that ragweed, curly dock, lambs quarters, pigweed, plantain, sheep sorrel and sagebrush are all heavy producers of pollen. Rain can bring some relief, but it can be a double-edged sword.
Pollen Counts
Pollen is essential to plant propagation. Although pollinators carry the material from one plant to the next, winds blow pollen into the air during times when plants are blooming. Spring typically has high pollen counts as a result of the number of plants releasing pollen during this season. A pollen count is a measurement of the amount of pollen in the air at any given time. Analysts collect pollen on a sticky rod and examine their findings under a microscope. A pollen count expresses the number of pollen grains in a cubic meter of air.
Wash Pollen Away
Rainfall, especially a prolonged rain or a brief but heavy rain, essentially scrubs the air of pollen. Raindrops are larger and heavier than pollen grains. Drops falling to the ground with the force of gravity take pollen with them. Plants are also more prolific at releasing pollen during warm, dry weather, rather than in a rainstorm, or even during cooler weather. The heaviest release typically occurs during the early morning hours from 5 a.m. to 10 a.m.
Longer Term Issues
Heavier rains in the fall and into early winter can actually increase pollen levels in the following spring. Trees, including cedars and oaks, increase pollen production in response to higher rainfall earlier in the year. Heavy spring rains cause some grass species to become abundant pollen producers since the grasses grow more rapidly.
Other Allergens
Pollen is not the only irritant to allergy sufferers. The symptoms are much the same for those allergic to mold spores, which are more prevalent during cooler, rainy periods. "'Once you're primed to be allergic to something, you have an increased chance of becoming allergic to other things, and regretfully, you don't need a full dose to get as much suffering," according to Dr. Leonard Bielory, director of the division of allergy and immunology at the University of Medicine and Dentistry of New Jersey, speaking to The New York Times.