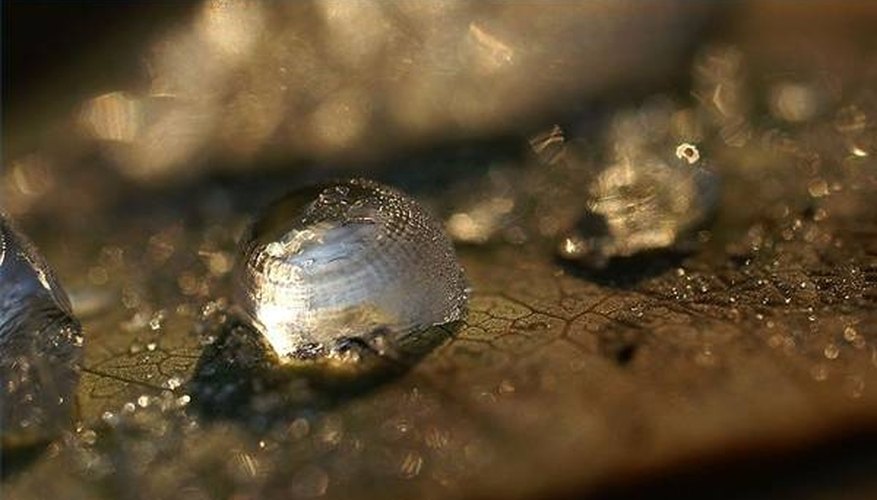 Water might be the only substance in nature that is less dense as a solid than it is as a liquid. By its nature, it is a disorganized form of matter and it takes some doing to coax it into freezing and forming crystals. However, there are ways to change the freezing point of water so it becomes a solid at a higher, warmer temperature.
Fill a bowl with ordinary tap water and leave it out for a few days. Pure water has a freezing point that is much lower and colder than 32 degrees Fahrenheit. Therefore, the purer the water, the lower its freezing point will be. Certain impurities actually help in crystal formation, raising the freezing point to a warmer temperature. That is why common water freezes at the normal 32 degrees. If you do not have access to water from a source like a river or stream, leave it out to collect some dust. That will help bring it up to the expected 32 degrees.
Add testosterone. The reasons are unknown, but tests show that testosterone assists in water crystal formation and therefore substantially raises the freezing point of water to a warmer temperature.
Add long chain alcohol. This is not the garden variety alcohol found in rubbing or drinking alcohol. Those lower the point of freezing to something colder. However, studies have shown that the kind of long chain alcohols that are being experimented with as a high-powered substitute for gasoline also assist in crystal formation and raising the freezing temperature of water to a warmer level.
Tip
There is a popular myth that hot water freezes faster than cold water. This is true under certain cases but not because the freezing point is higher and warmer. Instead, boiling water under certain circumstances changes the conductive properties of the water so it will lose its greatly increased store of heat more rapidly. Freeze your water in a pan or some other object that maximizes how much of it is exposed to the air. This will facilitate heat conduction and cool it more rapidly.