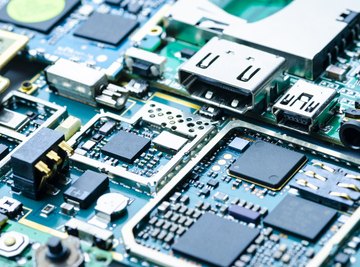 •••
Antonio Bordunovi/iStock/GettyImages
When you can't find plans, reading a circuit board is the only way to replicate or repair an old circuit. This can be a daunting and time-consuming task. Older circuit boards may contain unrecognizable parts that are no longer manufactured. Others may feature custom-integrated circuits that defy mapping. Start with an easy analog circuit, such as a guitar distortion pedal, and work your way up to more complicated versions.
Make a drawing of the top of the circuit board. Show the positions of the capacitors, integrated circuits, resistors, transistors and other components. Review it to make sure everything is included.

Draw up a parts list. Label all the components on the drawing by the first letter of their type and a number. For example, the first capacitor you see should be labeled C1, the second C2, and so on. List in a column the labels of all the parts and their values found on the board.

Go through the circuit board and record the values of all the parts that have values. Many components use colored bands to record their values instead of numbers. Consult at the electronic color codes in the Resources section below for more information.

If you can't recognize a component, but it has a parts number, look it up a semiconductor reference (see Resources).

Turn the board over, and examine the circuit traces. Draw them on the diagram so they connect the right parts.

Go back and check over all the circuit traces. Then, review them more time. Don't leave anything out, or you'll have correct the parts.

Circuit board
Parts lists
Resources
About the Author
Isaiah David is a freelance writer and musician living in Portland, Ore. He has over five years experience as a professional writer and has been published on various online outlets. He holds a degree in creative writing from the University of Michigan.