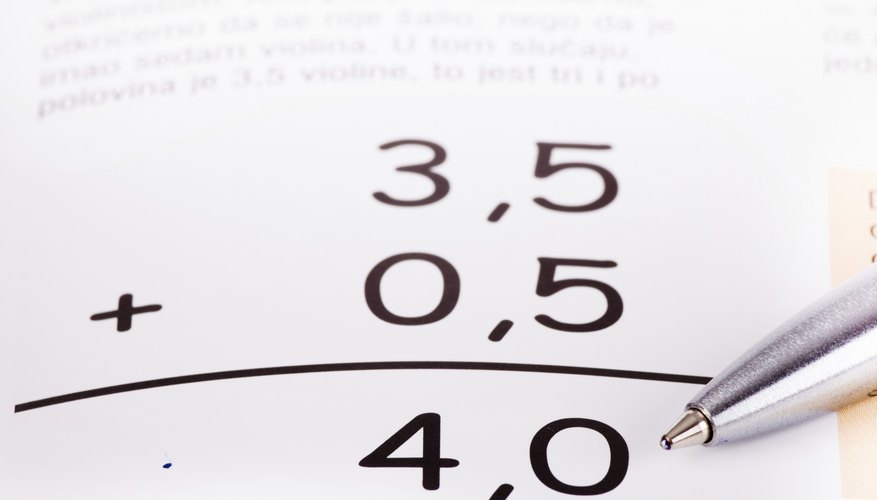 Understanding how to read a number with decimals is the first step in understanding what the decimal is representing. There is a big difference between 0.1, 0.01 and 0.001. Recognizing these numbers represent one-tenth, one-hundredth and one-thousandth helps children to manipulate the numbers in equations.
Reading a Decimal Number
You can help a student understand that decimal values, like people, have a first name and a last name. Its "first name" is the number. The "last name" is the last place value in which a number holds a place. For example, the decimal value 0.84 is read eighty-four hundredths. Eighty-four is its "first name" -- the number. The four is the last number, and it is in the hundredths place. To the right of the decimal point is the tenths place. Each place after the tenths decreases by an order of ten -- hundredths, thousandths, ten-thousandths, hundred-thousandths, millionths and so on.
Numbers Larger than One with a Decimal Point
All numbers have decimal values, even numbers 1 and larger. If a number is whole -- for instance 2 -- it could be represented with a decimal, in this instance 2.00. But because it is a whole number the decimal is eliminated. Any number to the left of a decimal point is a whole number and is read based on its base-ten place value -- 106 is read one hundred six. If the whole number has a decimal point and numbers after the point, say "and" for the decimal point. After reading the whole number, read the decimal number's first and last names. The number 106.064 is read one hundred six and sixty-four thousandths.